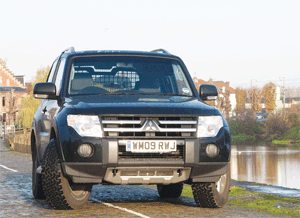 A blast across France to the vineyards of Northern Italy in our long-term test Mitsubishi Shogun 4Work Van proves a breeze for Toby Savage on his first leg of a long-distance drive and greenlaning trip
Power steering! Whatever next? My first impressions of the new Mitsubishi Shogun 4Work had got off to a good start. With my own disparate collection of 4x4s being firmly rooted in the Tax Exempt category, the luxuries of power steering, a great heater and car-like performance were much appreciated assets for an autumnal run down to Italy. A wet and windy drive to Kent, to collect the Shogun from editor Hils, meant it was 21.00hrs before we hopped onto the ferry for France, luggage and gear thrown in the cavernous back. The wire mesh 'dog' guard ensured nothing ventured further forward than the seat bulkhead and all was well, if a little rushed.
Our plan was to visit friends, Leigh and Maura Hooper in Piedmont, northern Italy. Leigh is an old mate and married Maura, an Italian girl, about 10 years ago and they live in an idyllic old farmhouse on top of a mountain, as does everyone else in that area! Leigh, however, misses English beer, so any visit by car involves taking a good supply of Marstons Pedigree in exchange for a return run with enough local wine to see us through most of the year. At €1.20 a litre it's a bargain that some judicious man maths can easily justify. While in the area, Leigh promised to show me around a few of the greenlanes that meander around the hills. Originally used by Donkey Carts, these are now frequented by hunters armed with shotguns and accompanied by big dogs. During the autumn hunting season it is very common to see a range of battered old 4x4s parked in the woods with a menagerie of dead wildlife slung in the back.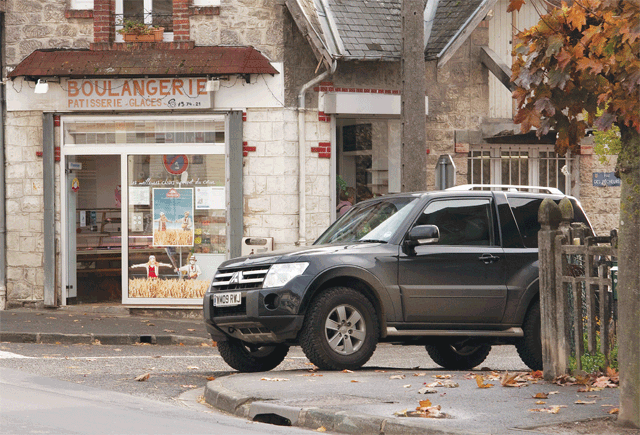 EASY TRANSITION
It was late as we drove off the ferry and onto the Autoroute at Calais. Previous experience has taught me that it is wise to drive on for an hour to Saint-Omer for the night where there are better hotels, for less money, and it's a pleasant old French town to wander around in the morning. As this was going to be a road trip day we stocked up with drinks and snacks for the Autoroute blast South and hit the road, the Shogun easily maintaining a steady 70mph and its high driving position giving a commanding view of the traffic. My partner Jo and I shared the driving in two-hour stints. It is remarkable what advances have been made in modern 4x4s. Jo's daily driver is a Nissan Micra – the opposite end of the spectrum to the Shogun, and yet she was able to step into the driving seat and within a minute or two resume our 70mph cruising speed as easily as if in her own vehicle. The handling and stability were superb and all the controls intuitive to use. With the fuel consumption hovering around 30mpg we seemed to have the perfect transport for the trip.
As passenger, I was able to plot a good lunchstop and resisted the Autoroute Service Stations, finding, instead, the small town of Guignicourt, a kilometre off the A26, just north of Reims. Le Relais, a bar in the centre of town, rewarded us with an excellent light lunch and a couple of stiff expressos ready for the next leg. Beaune was our destination for the night. Always a handy stopping-off point, located roughly halfway between Calais and the Mediterranean coast, Beaune is the jewel in the Burgundy crown with beautiful architecture and the best food and wine in the country – as any Burgundian will tell you! It is possible to spend a fortune in Beaune, but Hotel Grand St Jean offers very good accommodation at a reasonable price and is within walking distance of the Centre. It also has secure parking, which, being in a loan vehicle, seemed a good idea.
ITALIAN DRIVING..?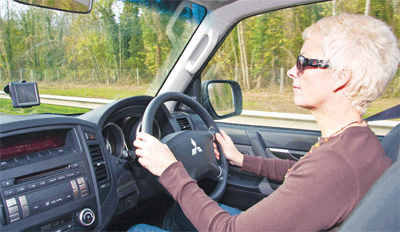 We managed an early start the next day with the intention of reaching Leigh and Maura's place for dinner that evening. Our progress was swift on the Autoroute, heading southeast to take the Mont Blanc tunnel under the Alps. Not cheap at €33.20, one way, but much quicker than driving over the Alps. Since the disastrous Mont Blanc fire in 1999, every vehicle entering the tunnel is given a leaflet explaining safety procedures, such as the 50kph speed limit and why you should keep a good gap between you and the vehicle in front. Even cautioned like this, it is not a comfortable experience being underground for nearly 12kms, with oncoming traffic worryingly close. Somewhere in the middle, the Tunnel du Mont Blanc becomes the Traforo del Monte Bianco and we emerged into Italy and the amusement of Italian driving. Having an Alfa Romeo just a couple of metres from your rear would be worrying in a normal car, but high up in the safety of the Shogun any mishap would be his problem, not ours, so I resisted the urge to speed up and sat comfortably at the speed limit until he overtook and disappeared in a flourish of testosterone!
Once off the Autostrada and onto the smaller roads through the wine-producing areas of Piedmont, the pace slowed, tractors mixed with older cars and people stood around in small groups talking, or sitting outside bars and cafés enjoying a quick espresso on the way back to work after a big lunch. Our high-speed cruise was over and it was time to slip into a more relaxed pace of life where the working day is something that has to be endured to separate lunch from dinner. We pottered over the last few hills around Nizza Monferrato, enjoying the rich arable land with its a rusty brown colour, following the grape harvest and dropped down into Acqui Terme, the final town before grinding up a long hill to Leigh and Maura's place. Their driveway is steep, offering wet grass and, in winter, no car ventures beyond the gate at the top, but the Shogun made light work of it and we were able to unload the important beer cargo straight into the cantina.
Over a round of Pink Gins we swapped stories. Ours was about just how effortless the drive had been in the Shogun. We had travelled nearly 1000 miles in two days, yet were fresh and relaxed, thanks to the qualities of Mitsubishi's competent Shogun 4Work. And work it had, transporting us and our heavy cargo all that way at a steady 70mph, yet still achieving about 30mpg. Leigh and Maura's stories were about what we should expect to eat and what it would be washed down with. They have two cars. One is black, the other pale green. Apparently, both of them work.
Saturday morning was to be devoted purely to wine buying and Leigh and I jumped in the Shogun, now empty, to head back up to Nizza Monferrato and a wine co-operative selling most of the region's wines. The owner was most insistent that we sample a few, by way of loosening the grasp I had on my wallet, but within an hour we were loading the accommodating back of the Shogun with about 200 litres of mixed reds and whites, mainly in 10-litre wine boxes. This is a handy way to buy wine as it enables you to have a quick glass without opening a whole bottle. The disadvantage is you can, all too easily help yourself to a few more!
Back at base we unloaded the cargo, ate another enormous meal and discussed plans for the next day. Within easy reach were trails that stretched high across the hills, tracks through woodland and a couple of boulder-strewn rivers we could attempt.
With just our hard-working Shogun and a couple of mobile phones for back-up we loaded up with tow ropes, a couple of makeshift bridging ladders – the ramps from an old trailer – and a decent jack.
The weather forecast was typically autumnal with mist and light rain, but I was relishing the chance to explore the Piedmont region in the Shogun and stretch its legs a bit, while Leigh was hoping all the fresh air would give him an even bigger appetite for the feast that would surely end the day.
Read about the Shogun's off-road adventures and the thrilling drive back across the snow-capped Alps next month.
The Mitsubishi Shogun 4Work is the commercial version of the legendary Shogun/Pajero range of 4x4s. Heavilymodified versions scored a record number of victories in Paris-Dakar Raids of the '80s and '90s. The model Toby and Jo drove was the SWB, fitted with the inline, four-cylinder, common rail diesel engine, turbocharged with intercooler. Prices start at £26,500. Leigh and Maura Hooper run a Bed and Breakfast from their mountain top hideaway – www.lamula.it – which makes an ideal place to stay if exploring both the greenlanes and plentiful wine producers in the region. They can also point you in the direction of the best local restaurants that offer astonishing value.