It was the annual Easter Jeep Safari last week, and this year's concepts got us thinking of all of those that have gone to Utah in the somewhat recent past.
Concept vehicles are often overtly fanciful prospects. Sleek, smooth and futuristic, with the promise of technology that, frankly, is very futuristic. And it's all a bit distant.
But not Jeep, though. The concepts they take to the Easter Jeep Safari each year are often current models on all kinds of steroids, that take on the Utah trails and look backwards as much as they look forward. This combination results in concepts that actually move and seem as real as they do outrageous.
So, without further ado, here are some of the best and most interesting/bizarre ones from the last decade.
 The Grand One – '17
This was a 1993 Grand Cherokee. With 100,000 miles on the clock it was bought by Jeep on Craigslist, before undergoing a restomod inspired by the glorious nineties. All to celebrate the Grand Cherokee's 25th birthday.
It retained the original 5.2-litre V8, got a new cold-air intake and exhaust, before having the wheelbase stretched by three inches, the suspension raised by two, 33-inch BFGs and heavy gauge rock-rail cladding. Exterior styling was only tweaked slightly, but it was the changes inside that won hearts.
It wasn't just the charmingly dated sky-blue bodywork that made the Grand One retro gold.  A plaid flannel headliner took you straight back to pre-millennium, as did the wired car phone and a backseat Gameboy. Plus, a sticker of David Hasslehoff on the drivers' side inner door panel, exclaiming the Grand One "Hoff Tested, Hoff Approved". That's why everyone loved this concept.
Quicksand – '17
The Quicksand is mad in a whole different way. It started life as a Wrangler Rubicon, and harks back to the Moonshine hot rods of the 1960's.
The result, as you've surely noticed by now, is a very striking one. The bobtail, chopped roof and a Moon tank that smuggles a winch give it that crazy hot rod charisma. Oh, and the 6.4-litre Hemi V8 on the other end of those eight velocity stacks – which can be routed via a rear exhaust or the two trumpets behind each of the front wheels – adds to the character too.
To keep it Jeepy, it got Dana axles – 44 front and 60 rear – with a lengthened wheelbase. It also had big BFG Mud-Terrain tyres, 32-inch at the front and 37-inch at the back.
It's hard to choose one word to describe the Quicksand concept, but we'd probably apply beautifulcrazy.
Safari – '17
This one is less desirable off the bat than some of the others here, but will definitely garner plenty of glances.
The first thing you'll notice is the fact that the doors are transparent. The addition of 'windoors' – aluminium frames draped in clear vinyl – helps the Safari in its bid to be a vehicle focussed around its passengers. Obviously you can see a lot from inside the vehicle, and this is aided by tilting the seats outwards and there's even a roof-mounted drone to scout the trails or to look over cliffs and stuff.
It's not just about seeing things, though, with typical Jeep upgrades to the axles, decreased front and rear overhangs, a 2-inch suspension lift and 35-inch mud tyres. There's also a stainless-steel work surface that slides out at the back, and an on-board ARB compressor to easily readjust the tyres for driving on that tarmac stuff again.
Crew Chief 715 – '16
If there's one particular model fans have been urging Jeep to make for ages, it's a modern-day pickup. And that's why the Crew Chief 715 was such a hit.
Taking inspiration from a '60s Kaiser M715 military truck, which was based on a Jeep Gladiator pick-up, this concept started as a four-door Wrangler, was retrofied with styling changes predominantly at the front and then given a five-foot pick-up bed. This was huge. Literally. Many of those who drove it questioned whether it was too big.
Its tyres were military spec and measured forty inches, with a four-inch lift to the body. The axles were both upgraded to Dana 60s, and an on-board air compressor allowed tyre pressure to be changed with ease.
The Wrangler's 3.6-litre Pentastar V6 was retained in the Crew Chief with the addition of an intake and a freer exhaust in conjunction with a five-speed automatic transmission.
Shortcut – '16
There's not too much to say about the Shortcut. The headline is that despite retaining the two-door Wrangler's wheelbase, the Shortcut is 26-inches shorter than the stock vehicle. It's lost its back seats and roof, gained 35-inch tyres and is very red. It looks like a kid's toy but bigger, and it's completely awesome.
FC 150 – '16, Mighty FC – '12
Another small Jeep, the FC 150 is built up on top of a 2005 Wrangler and again, looks like a toy. It wasn't perfect, but it oozed charm. The sixties styling just makes you smile, so it doesn't matter that the concept is no more than a retro body tacked onto a Wrangler frame.
But this isn't the first forward controlled concept Jeep have taken to Utah. The Mighty FC came four years before the FC 150 and was also inspired by the original vehicles produced for nine years from 1956.
This was a bit bigger though with the Wrangler Rubicon starting point being extended. The pick-up bed had drop-sides and due to the relocation of the cab measured eight-feet. Mopar portal axles were installed, along with coil-over assemblies and uprated track arms and track bars. A Warn winch was added, too, meaning the Mighty was definitely the more rugged of the forward control concepts to grace Moab.
JK2A Staff Car– '15
Another concept referencing the military history of the Jeep brand, the JK2A Staff Car looks incredible. Even more so when you read that it isn't a restoration, or even a restomod.
Let's call it a retromod. The Jeep engineers wanted to see how close they could get to a World War II military Jeep – starting with a JK Rubicon.
As you'd expect, a lot of things had to be changed to get it ready. And the Staff Car is genuinely jaw-dropping. The doors are gone, the sills have been raised and the B-pillar moved backwards. Throughout everything that doesn't look period appropriate has been made to look so or pulled off. Immense effort has been poured into fitting out the concept with accurate details such as the 20-foot antenna and the bumpers from an Egyptian military Jeep.
Whilst this is very much a tremendous and historically accurate concept, there are a few Easter eggs thrown in. For instance, the gear knob is a hand grenade, and the four-wheel drive lever is a shell casing. But best of all, is a bottle opener mounted by the instrument panel, labelled for 'Official Use Only' and the cooler that looks like a box of ammo.
Max Performance – '14
Every year there are some concepts adapted for extreme off-roading, so there's a long list to choose from here. But, due in part to both its name and how extreme it is, we've chosen to feature the Max Performance.
The black and blue concept – surely a metaphor for how it wants to be driven – featured a non-production four-inch lift, with Fox remote-reservoir shocks with locking Dana 60 axles and Warn locking front hubs. Fortified concept wheels were necessary, and installed along with a Rock-Trac transfer case with a 70:1 crawl ratio. It kept the JK Wrangler's V6, but got a cold-air intake and a cat-back exhaust system.
A Warn winch was added, as was a Stinger front bumper to avoid somersaulting – yes somersaulting. It was kitted out with just about everything from the Jeep Performance Parts arsenal, including a swathe of LED lighting, rock rails and skid plates and a Mopar hood.
Concept touches like the tyre carrier and the easy open fuel-cap cover add practicality, as do the hardwearing Katzkin leather interior. The blue steering wheel rings at ten and two are a nice touch, as are the five trail badges signifying the Moab courses it has conquered.
Stitch – '13, Pork Chop – '11
Much like the '4SPEED' debuted this year, the Pork Chop and Stitch concepts championed lightness as a means to improve off-road capability.
Both are Wrangler offshoots that do without doors, back seats or solid roofs. They're also stripped of their carpets, with body panels made lighter and things like spare wheels omitted and even the fuel tank was downsized in the quest to lose weight.
Coming two years later, the Stitch is a little more civilised, gaining a mesh tailgate, bed cover and cockpit canopy. Plus, the Sabelt bucket seats appear a little more substantial than the red Recaros in the Pork Chop.
They might not be equipped with the extensive options list that most of the other concepts are, they couldn't winch themselves out of bother for example, but given that the Pork Chop weighed almost 400kg less than a stock Wrangler, wouldn't they just glide over obstacles?
J-12 – '12
Another nod to the Gladiator pick-up series, the J-12 concept was a heightened rendition of the JK-8 conversion offered by Mopar for the now-outgoing Wrangler. Starting with a Wrangler Unlimited, 18-inches were added to the back of the frame which allowed for the spare wheel to be rehoused under the bed floor. The pick-up bed ended up being a full six-feet in length, and the hood and front wings took styling inspiration from the Gladiator trucks of old.
Jeep being Jeep, a Mopar suspension lift of three-inches was fitted along with uprated axles, sway bars and 36-inch tyres wrapped on 16-inch steelies.
Blue Crush – '11
The Blue Crush was inspired by the King of the Hammers desert racing series, and as such is a hard-hitting off-road machine.
It was powered by an all-aluminium seven-litre V8, laying down 540bhp through a performance transmission. The suspension was beefed up too, with internal bypass shocks and front stabiliser bar and massive 39-inch tyres that required custom driveshafts.
The roll cage was inspired by Baja racers and racing seats were added, whilst smaller, lightweight aluminium bumpers replaced the stocks.
Nukizer 715 – '10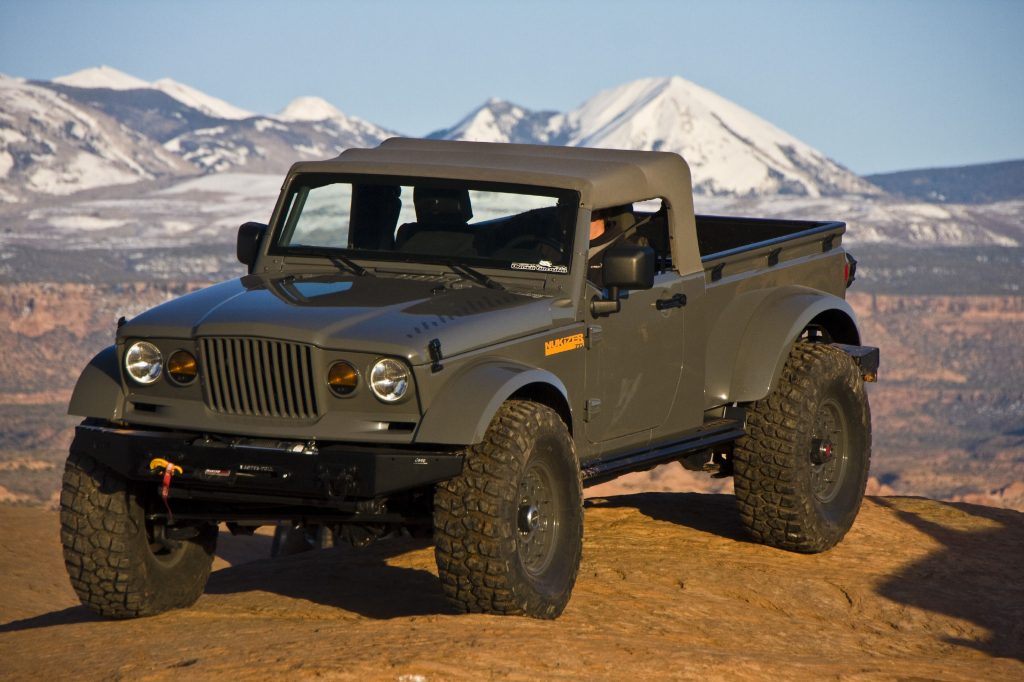 Another pickup truck and another homage to the Kaiser M715.
The Nukizer 715 was smaller than the Crew Chief, and combined a two-door Wrangler and an aftermarket pick-up bed. The front end was crafted from carbon fibre over a stretched frame. The total length ended up at 124-inches, with a Dana 44 axle at the front, a Dana 60 at the back and a 2.8-litre turbodiesel running through a manual four-speed. It looked awesome and only heightened the call for a production Jeep pick-up truck.
Wrangler Overland -'09
Like the Nacho debuted this year, the Wrangler Overland was really just a blueprint for what you can make with the aftermarket Mopar accessories.
Tailored to be a self-contained campsite, the rear seats have been removed and the floor covered in utilitarian rubberised matting. It got a two-person roof tent and awning, water resistant seat covers and a dash bin that powered a host of accessories.
The suspension was lifted three-inches and a rear traction sway bar installed, plus 35-inch tyres around 17-inch off-road steel wheels. Expected to be off the beaten track, the Overland concept was embellished with extra underbody protection and steel bumpers, plus a snorkel and windscreen and bumper mounted LED lights.
This may not be an extreme concept, but it is a very cool template.
Wrangler JKL – '08
This was awesome.
Again, it doesn't have a very long story to tell aside from the fact that it was a JK Wrangler which was extended to have a 110" wheelbase. Other than a lengthened and strengthened chassis, the JKL received 37-inch tyres and a 6.1 litre Hemi V8.
So which is your favourite? Let us know in the comments below.