Many manufacturers have their traditions, most of which are waiting a decade or so and sticking a birthday badge on an otherwise unchanged model. But, being a brand that oozes off-road smarts, Jeep do things a bit differently.
They host an annual Moab Easter Jeep Safari, where off-road nuts congregate for a week of technical driving, breath-taking views and endless 'my Jeep is bigger than yours' banter.
And to celebrate this, Jeep produces a batch of concepts each year that, with the help of Mopar, usually include badass, retro, or hard-core versions of the current line-up. This year is no different. And without further ado, here is a run through of the offering for 2018:
Jeep 4SPEED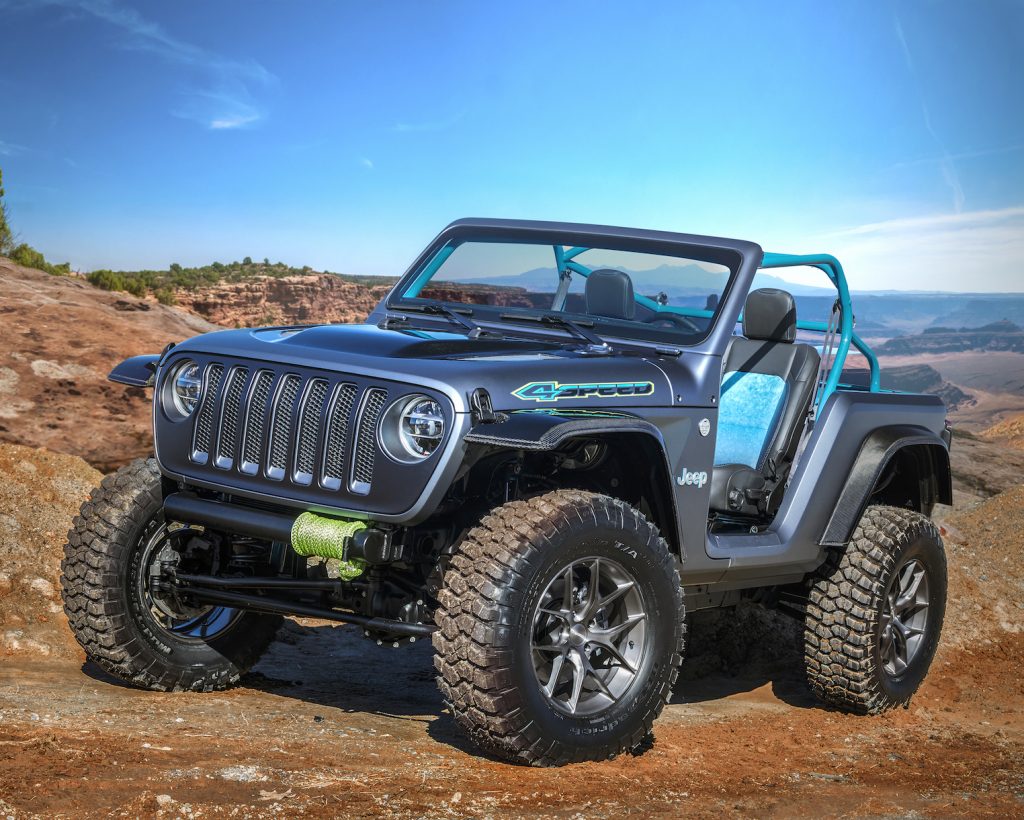 Light – bonnet, fender flares and rear tub all made of lightweight carbon fibre, whilst other bodywork is light and minimal.
Higher ride height – the 4SPEED sits two inches higher than a stock Wrangler.
Better angles – overall length has been shortened by 22-inches(!), without changing the wheelbase, which means vastly improved approach and departure angles!
New engine – the 4SPEED showcases the latest 2.0-litre turbocharged straight-four unit from the Wrangler range, alongside an eight-speed auto 'box.
Custom interior – the instrument panel has been revamped for the concept, rear seats removed and the floor bedlined and floor is aluminium plated.
Jeep Sandstorm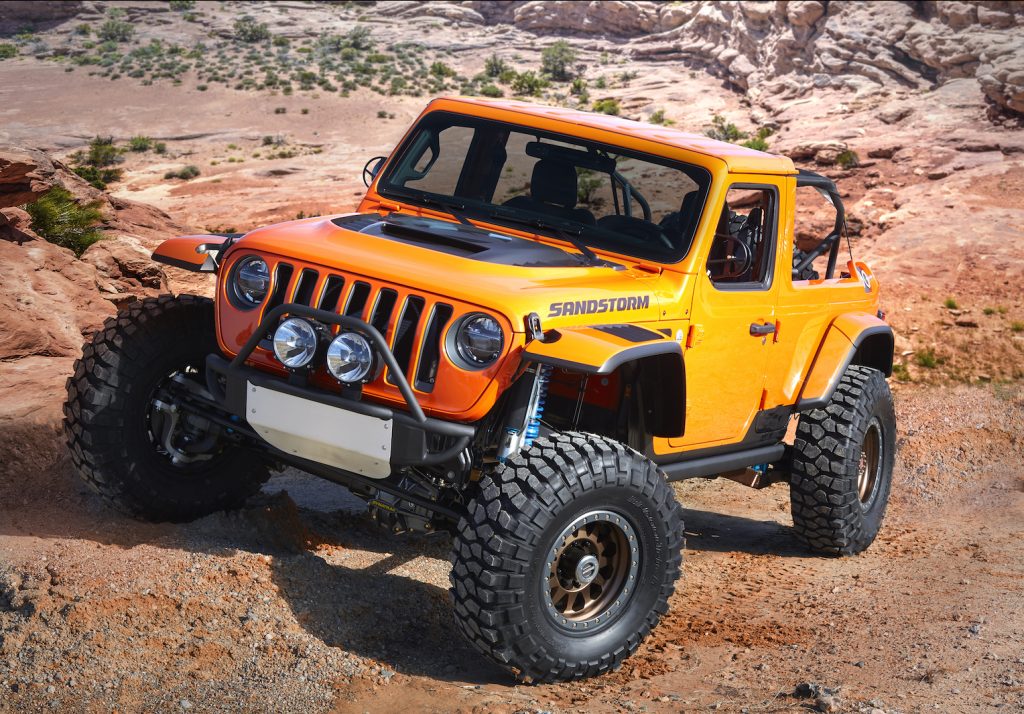 Baja inspired – vented carbon fibre hood, high clearance arches all round, chopped rear doors, plus the lay-down spare among the roll cage gives the Sandstorm that Baja image. It also has a race-style fuel filler, race lights and an on-board air compressor. There's also low bucket seats, a 7-inch GPS system and switches for an air-compressor and axle lockers.
Baja ready – an extreme-duty suspension system is prepared for dune bashing and highway cruising; custom coilovers and bypass shocks means 14-inches of front travel and 18-inches at the back. High clearance front and rear tube bumpers and modified rock rails mean it's tough.
Longer wheelbase – the front axle has been moved forward four-inches with a heavy-duty long arm four-link suspension and track bar, whilst the rear has been moved back half as much and utilises a triangulated trailing arm four-link setup.
Keep on rolling – heavy duty Dynatrac 60 axles with a 5.68 gear ratio, plus 17-inch beadlock wheels and 39.5-inch BFG Krawler tyres mean the Sandstorm should be unstoppable.
Powerful engine – the concept gets a Mopar tuned 6.4-litre V8, with a six-speed manual transmission.
Jeep B-Ute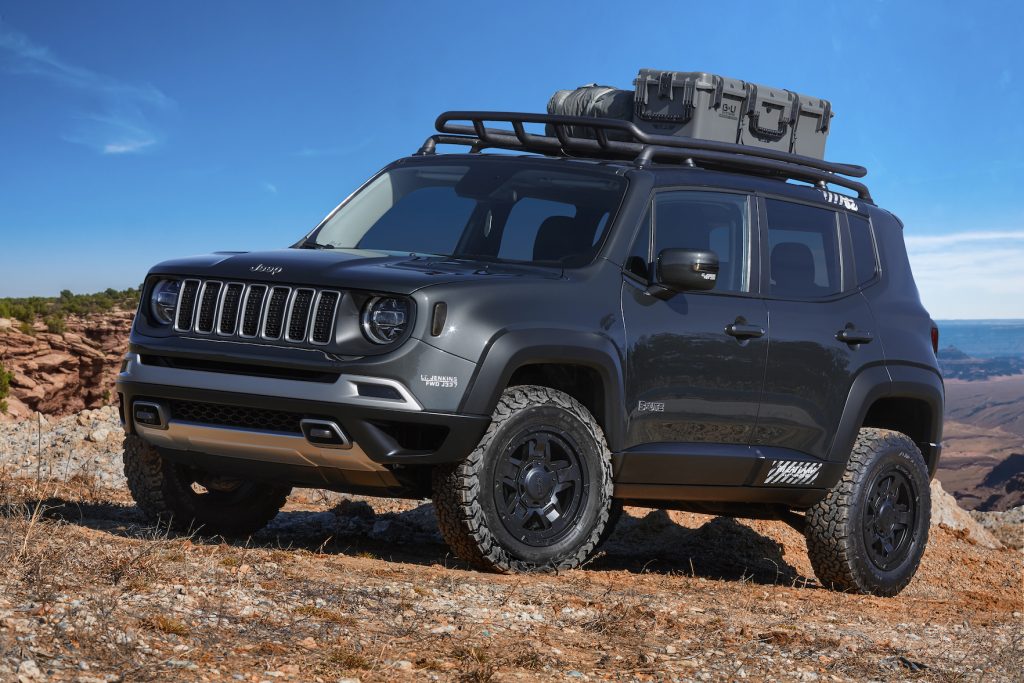 Customised for adventure – bonnet has heat extractors, wider flares are in place alongside a custom grille and individual front and rear fascias.
Jeep Performance Parts – a 1.5-inch lift kit, roof rack and rock rails are added from the JPP catalogue. 17-inch wheels are offset by 30mm and wrapped in BFG Baja Champions.
Cool interior – customised seats, with 'mineral' inserts, join a carbonite finished shifter and dash trimmings, plus a Molle system on the back of the front seats and Mopar all-weather floor mats.
B-rUte of an engine – the 2.4-litre Tigershark engine from the Jeep line-up joins a nine-speed automatic gearbox.
Jeep Wagoneer Roadtrip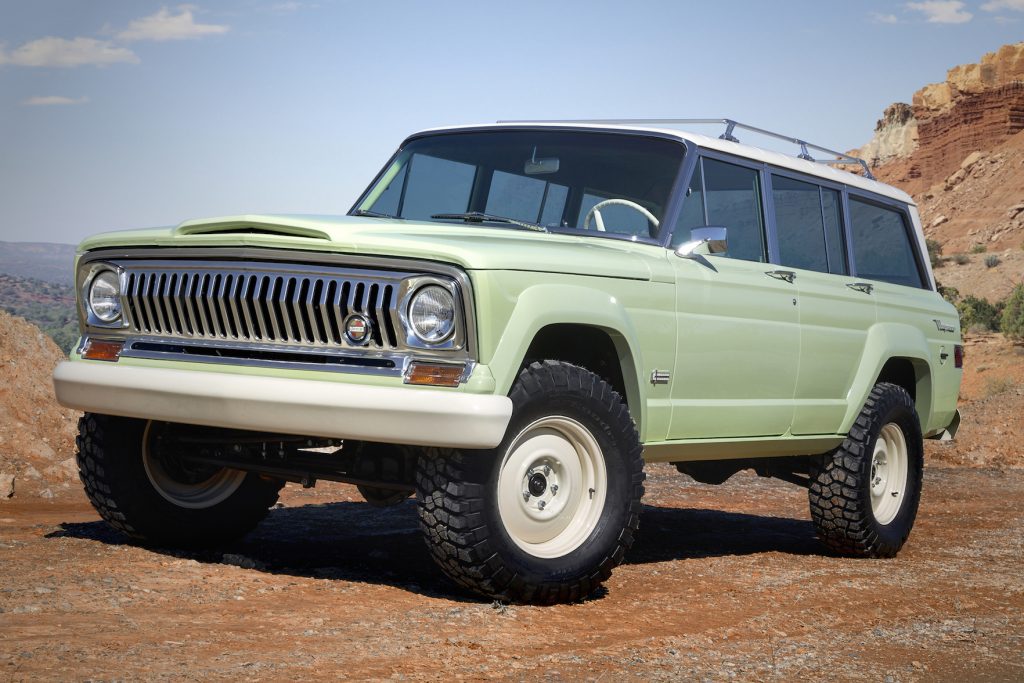 Nostalgic – the Wagoneer Roadtrip concept is inspired by the 1965 Jeep Wagoneer
Mechanically modern –A five-inch increase in the wheelbase comes alongside wider track. The boxed frame has been strengthened, and Dana 44 front and rear axles with lockers, four-link suspension with coilover springs means the Wagoneer can go further than its looks would suggest. It's 17-inch wheels are graced with BFG Mud-Terrains.
Original interiors – the front and rear bench seats, door panels, kick and rear panels are all original and trimmed in oxblood leather. A wicker headline keeps the interior light, and a custom cooler styled on period luggage and a tool box created from the original engine add practicality that oozes cool.
Obviously, a V8 – 5.7-litres worth, too. And being the first 4×4 fitted with an auto box, this concept gets a four-speed.
Nacho Jeep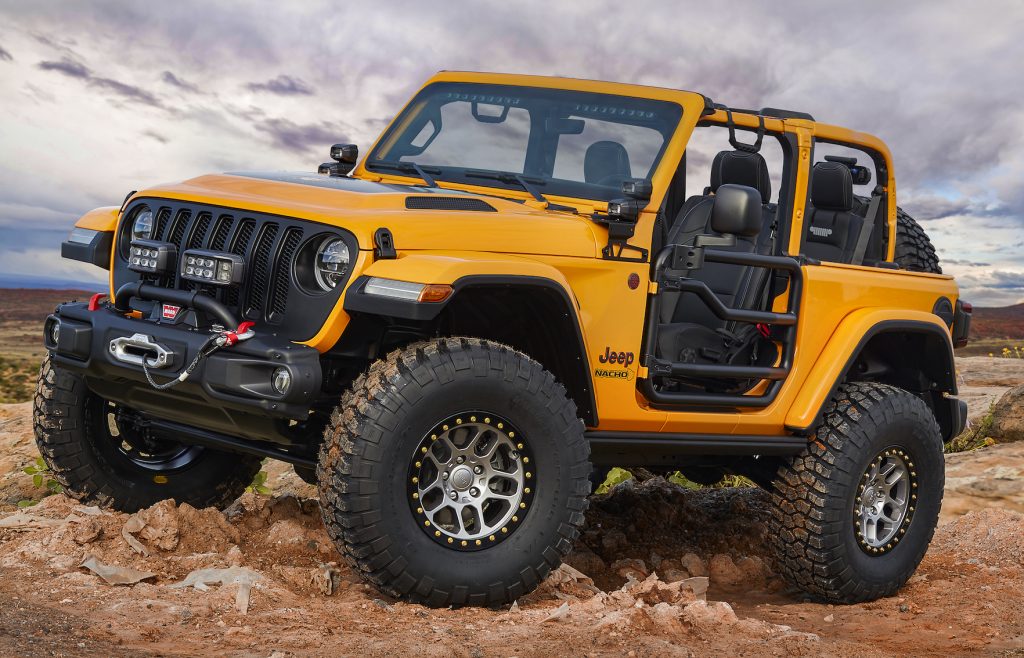 The Nacho Jeep is a 'rolling catalogue'. It shows people what they could get if they pillaged the JPP range from Mopar and stuck it all to a Wrangler Rubicon. So, despite any tortilla-themed jokes, it could be yours. Here's what's on it:
Hood with standard JPP graphic, that accommodates cold-air intake.
Satin black Mopar grille.
Rubicon bumpers with Warn winch kit.
Magnetti Marelli LEDs situated on A-pillar and brush guard, plus Automotive Lighting LED header lights on wind shield.
Rear LED off-road scouting lights (red -stop; amber – 1-3mph; green -3-25mph) and floodlight.
2-inch lift kit.
5-inch diameter aluminium body shocks.
37-inch tyres wrapped around 17-inch beadlock rims.
Fortified rock rails.
Jeep embossed grab handles.
Spare tyre tailgate reinforced hinge.
Black fuel door.
Black Katzkin leather seats, with embossed Jeep grille.
Satin finish on the wheel is the ONLY feature of the Nacho that isn't available on production Wrangler.
Jeep Jeepster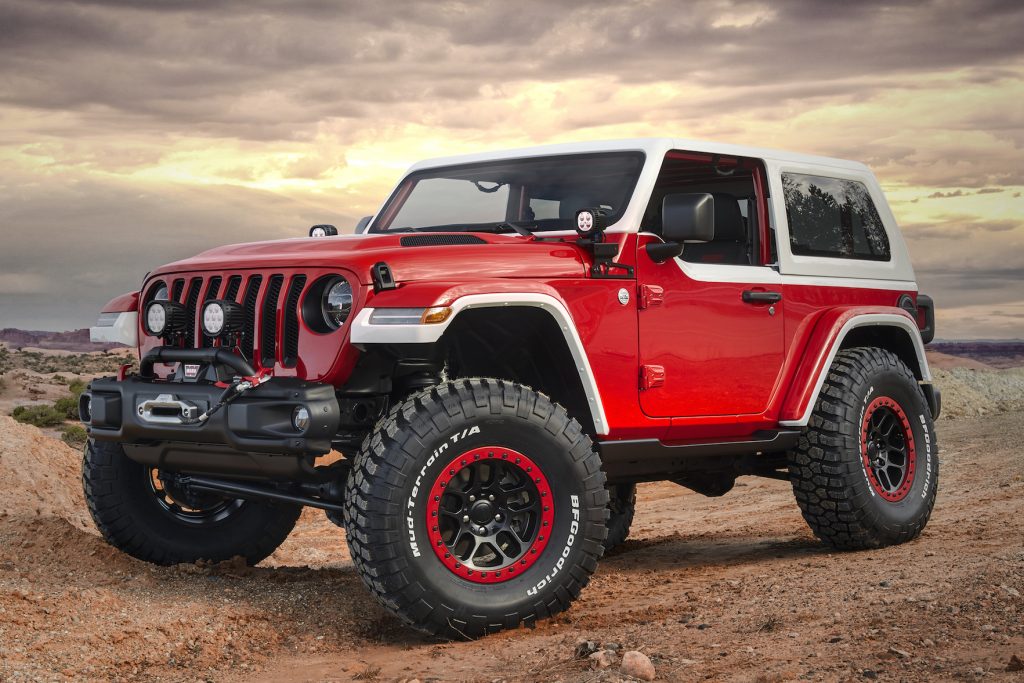 Two-tone – a JPP enhanced concept that evokes the image of the 1966 Jeepster through a Wrangler Rubicon. It's also got two-tone paint like the classic.
New meets old – styling may mirror a past hero, but the bonnet, snorkel, bumpers, LED lights and fog lamps are all a mix of JPP stock and production options.
Modern capability – a 2-inch lift kit and 2.5-inch diameter coil body shocks, plus the 37-inch BFG KO2 tyres ensure contemporary off-road ability.
Concept roll cage – non-production tubular roll cage replaces the sports bar, and has an integrated spare tyre carrier on board, too. The interior isn't all utilitarian, with Katzin leather seating adorned in matching red trim.
Storage packs – with the spare tyre inside, Jeep saw the opportunity for concept exterior storage. The split design allows for a rear-view camera, and rear mounted storage racks, and the rock step is a combination of rock rails and side steps.
Jeep J-Wagon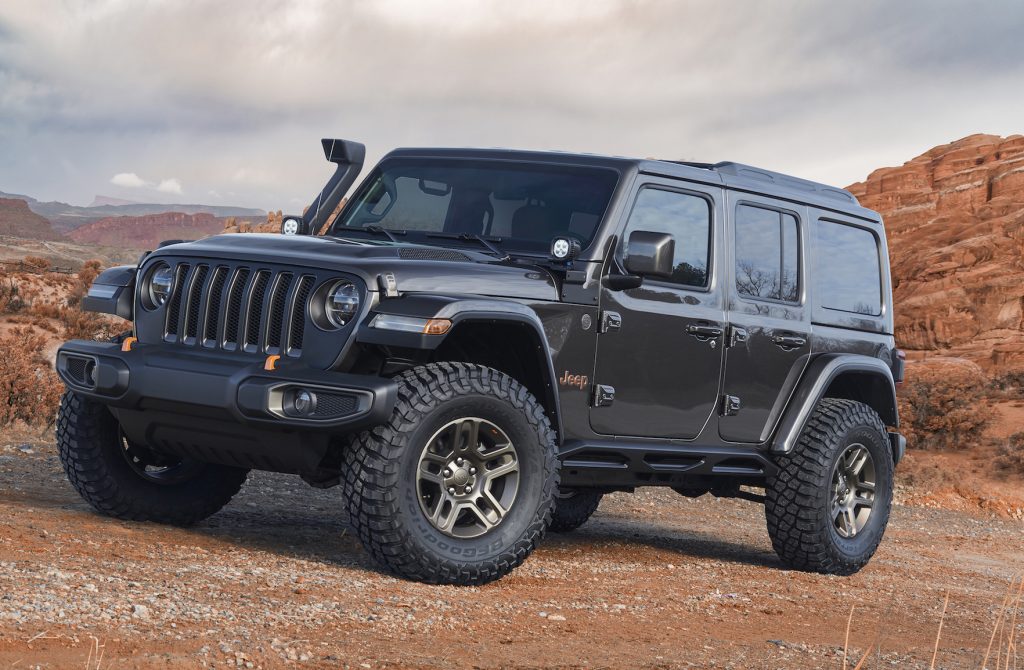 'Premium-styled' – again utilising the extensive JPP range, the J-Wagon is a luxurious take on a customised Wrangler Sahara.
Urban vibe – the non-production paint is called 'Warm Neutral Grey' (…), tinted windows and Brass Monkey touches across the exterior add to the street appeal, as do the black accents from the JPP vault.
Still capable – 5-inch LED lights will illuminate any trail, plus black concept rock rails and roof racks add to practicality and the image. The tailgate mounted spare tyre hinge is reinforced and is equipped with a high mounted stop light.
Luxury interior – camel-coloured Katzkin seats feature dark brown piping, whilst the interior trimmings are given the Brass Monkey treatment to match the exterior.