In the first of a series of Survival Guides, Fenton Motorsport explains how to service a diesel powered Nissan Navara. An ideal insight should you be considering a purchase of Nissan's popular pick-up
Words and photography: Rob Hawkins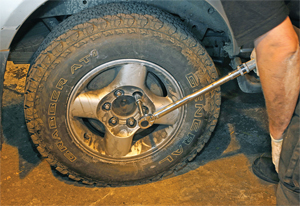 "It's never let me down, but I do service the brakes and change the oil every 10,000 miles and renew the air filter every 6000 miles," explains Nigel Barker of Fenton Motorsport on the reliability of his 11-year old 2.5-litre diesel powered Nissan Navara.
While routine servicing really is the answer to reliability, Nigel also admits he had to fit a new clutch thrust bearing at 85,000 miles and a propshaft UJ at 96,000, along with tyres that have generally lasted for around 30,000 miles. Rust is starting to emerge on the rear bumper, which he can live with for now along with a peculiar speed sensor related issue that results in a misfire at 1500-1600rpm – it has been fixed for now by detaching the plug connector at the gearbox.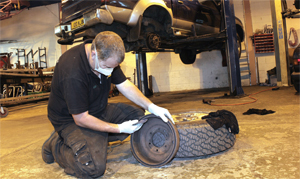 Servicing a Navara is very straightforward, so the following pages provide a step-by-step guide to cleaning the front and rear brakes, renewing the engine oil and filters (oil and air) and checking all the important fluid levels.
The servicing work we've outlined is a little more involved than most garages would conduct, especially the cleaning of the brakes. However, for the extra time that it takes (allow for roughly 4-5 hours to cover everything we've shown), our precautionary maintenance will ensure the brakes remain in good working order and troubles such as sticking pistons and unevenly worn pads are often avoided.
The recommended grade of oil we've stated for the engine, gearbox and axles may be different on your own vehicle, so check your workshop manual first. Similarly, the torque settings and sizes of nuts and bolts may differ on your own vehicle to the information we've stated.
---

To read the full report see the November 2014 issue of 4×4 Magazine. Buy it here