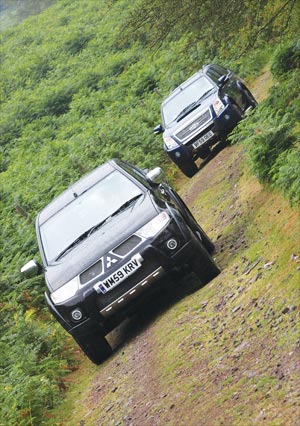 We take to the greenlanes snaking around the misty hills of Shropshire in a pair of capable pick-up trucks – our long-term Isuzu Rodeo and a Mitsubishi L200 – for an off-roading treat
Word: Toby Savage; photos: Wayne Mitchelson, additional photos: Toby Savage
Phone calls and emails throughout the summer, trying to find a day when the three of us were free, resulted in just one weekend at the tailend of summer when we could all be in the same place, at the same time and take the longterm test Isuzu Rodeo Denver Max LE, long overdue for some more off-roading fun since our camping trip in midsummer, out for a run with a Mitsubishi L200 Barbarian. These are two popular trucks for different reasons, but both capable of fulfi lling the needs of many trades. The question was, how would they fare on the lanes and trails that reach out to the less accessible parts of Shropshire?
We met in Church Stretton with editor, Hils Everitt arriving in the Isuzu; a keen photography student, James Mistry in the L200 with me and Wayne Mitchelson in his Land Rover 90 which we left in the car park. Everything was working out as planned except the weather! The hot dry days of the previous week had dissolved into persistent drizzle and mist. If it was like that in the valley, the visibility up on the Long Mynd would be negligible. We poured over the OS map in a convenient cafe, drank coffee and discussed what to do. The famous views across the landscape Charles 1st called 'The finest view in all my Kingdom' would elude us if it stayed like this.
Fortunately, there came a point where the off-road driver lurking within each of us eclipsed the journalistic desire for stunning photographs and we all agreed just to go for it and if nothing else, have a good day out. Wayne has considerable knowledge of the area and opted to be our guide for the day, hopping into the Isuzu with Hils, while young James and I agreed to follow their lead. From the centre of Church Stretton we took Burway Road, a minor road getting progressively steeper as it climbs to meet the old droving road called The Portway. This trail follows the ridge that is The Long Mynd and in the swirling mists it was easy to imagine herds of cattle being driven along this track from South Wales to Shrewsbury Market in the 15th Century.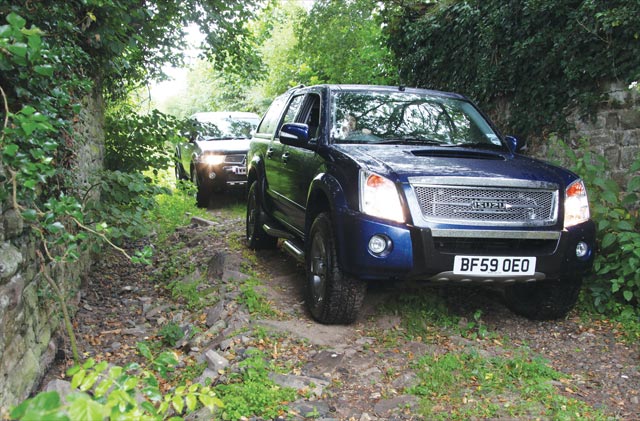 For us, this was a gentle start, on what is still classed as a Public Road, complete with good tarmac. Through the mist, however, we were aware of a perilous drop to our right and realised, as we passed Pole Cottage, that we were up at about 1700 feet – the highest point in the area! We kept to the high road, despite not being able to see much and close examination of the OS map confirmed that The Portway was now running parallel with Jack Mytton Way, a Bridleway named after the local Squire. A bit of Wikipedia research reveals Jack to have been quite a character; quote: 'He once rode a bear into his drawing room, in full hunting costume. The bear carried him very quietly for a time; but on being pricked by the spur he bit his rider through the calf of his leg.'
Read more about this 4×4 adventure in the February 2011 issue of 4×4 Magazine – back issues available here