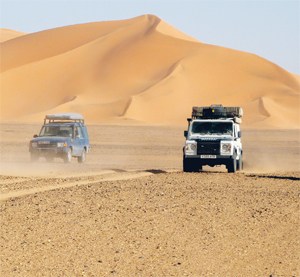 Sadly, recent world events may make adventures like this even more difficult. Here we follow the story of some intrepid Scottish 4×4 adventurers through the magnificent mountains of Algeria
Words and photography: Chris Scott of Sahara Overland

I flew in to Adrar in the west of Algeria a few days late and caught up with my tour group. They were not happy bunnies. Their 1000-mile drive down from Oran on the Mediterranean had been marred by bad weather, grotty accommodation and a tedious relay of police escorts, possibly exacerbated by fears about what's now become known as the 'Arab Spring'.
And then there was the bad news. That morning we heard about an Italian tourist kidnapped a few days ago on the other side of the country, south of Djanet. While such events have occurred lately in neighbouring north African countries, this was the first in Algeria since 32 tourists were grabbed back in 2003; an event well remembered, since I had narrowly avoided being included.
While the group was understandably fed up, no one seemed too bothered about the activities of roaming criminals, they just wanted to be free of the escorts. Of course, the kidnapping news made things worse and for another day in In Salah, the future of the tour hung in the balance. This improved, however, when our fixer persuaded the Brigade Commander involved that we would keep on the straight and narrow. I knew that once off the highway and beyond the reach of checkpoints, you could do your own thing; the desert was unpatrolled, so the longer we stayed out there the better. The vehicles were equipped with a 1000km range and food for a week, so once we were an hour south of In Salah, we headed for the hills before someone changed their mind.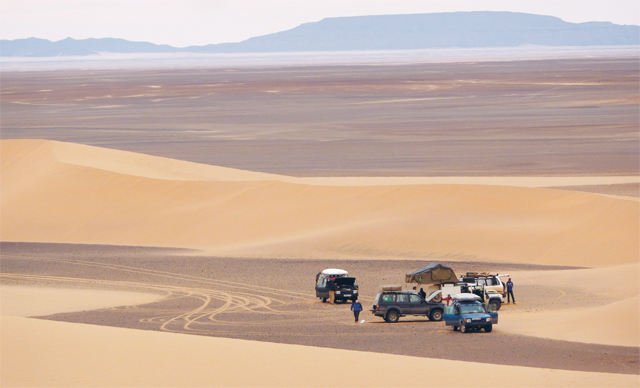 With me were a close-knit and experienced group of Scots who between them drove a Td5 Defender, an ageing Tdi Discovery, a rare automatic Discovery and a late 80-series Land Cruiser with a discrete Amazon badge. They were joined by a pair of Dutch guys in an early 80 with a natty sponsor's livery. I was riding in the local agency's normally aspirated 2.8 Hilux; Ahmed was at the wheel and we also had Brika the wily, septuagenarian, guide.
South of In Salah and west of the Trans-Sahara Highway (TSH) is a region called the Adrar Ahnet. Composed of dissected plateaux in the north and a sand plain dotted with granite outliers to the south, I had been exploring here in recent years. My plan was to head out west through the valleys of the Ahnet and then cut back southeast via the In Ziza waterhole, before heading on to Tam and planning a return route.
Ian and Marie's Defender was the Scot's kitchen car. They invited me, and the two Dutch guys, to chip in and share evening meals rather than each cooking their own. I dubbed it the 'Howling Wolf Café' after the effort required in repacking the Defender's bulky roof tent when compared to the effortless Autohome Columbus wedges on the Discoverys. But you can forget any 'Mars Bars-in-batter' jokes, these Scot's took their cooking seriously, stewing locally bought meat for hours and one night even conjuring up a delicious bruschetta with old bread.
Sahara Overland
Since 1982 Chris Scott has undertaken over 30 expeditions through the Sahara, from Egypt to the Atlantic and by motorcycle, 4WD, M.A.N truck, Mercedes saloon car, bush taxi and even by camel caravan. This has allowed him to gain an unparalleled knowledge of the practicalities of desert travel across the entire Sahara, both as a tourist, a driver, rider, trekker and as a tour leader. Check out his highly entertaining website and you will find more details including books and DVDs of his enterprising expeditions. Go to: www.sahara-overland.com or check out the video of this event by going on Youtube: http://tinyurl.com/5u8nrwt

Read more about this 4×4 adventure in the July 2011 issue of 4×4 Magazine.