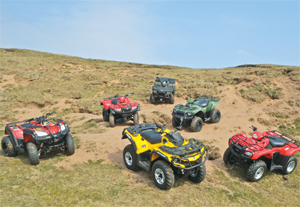 Who's who in the world of ATVs? We take a detailed look at the market for quad bikes, putting them through their paces on a full working farm. Highly entertaining, they would make fantastic leisure 4x4s, but can they work for a living? And just how good is this new electric model?
Words: Howard Sherren Photography and test riding: Wayne Mitchelson
For many, these are the ideal 4×4. Small, nimble, great fun to drive and highly capable of doing serious work when needed. But how do you choose the quad for you? We took six quads to a 250-acre livestock farm in Cheshire to see how they handled on a number of operations. Models came from the five key players in the market, with the exception of Yamaha, unable to supply us a machine at this time. More significant, perhaps, is the fact that we were able to try the latest electric ATV, the Eco Charger, which gave us a chance to see how a small manufacturing firm could compete with the existing leaders.
The test team included myself, 4×4 driving instructor and photographer Wayne Mitchelson, with engineer and local farmer George Hitchen. We put the quads to test around the challenging landscape, assessing the stability and traction on some tough and very steep banks, hooking them to a heavily loaded ATV trailer and investigating traction and transmission efficiency up and down the terrain. This was in addition to throwing them into some deep, muddy water to confirm their true off-road capabilities. We also hooked them to some of the latest products from Broadwood International, which included a farmer's favourite flail topper and sheep-feeding trailer to get a feel of day-to-day use. The Wessex AF Series flail mowers come in two sizes, 1.2m or 1.6m and are supplied with either a side-mounted Briggs and Stratton 18hp engine (AF) or a centrally mounted engine (AFC). There is a handle at the rear to adjust the height and with the engine started a simple hand clutch will engage the drive smoothly and the engine purrs along nicely. For added safety there is a kill switch that can be mounted on the back of the ATV. The AF-120 we tested comes in at £4200 + VAT, with the wider version slightly more at £4750. For pulling capabilities we also loaded the Wessex SF350 stock trailer, which can hold up to 350kg of feed. At £1340 + VAT it makes feeding stock far easier and safer. But at the end of the day, it's the individual performances of these small 4x4s that really matters…
---

Read more about this in-depth special in the July 2013 issue of 4×4 Magazine.