The concept of a plug-in hybrid 4×4 reflects Mitsubishi's position among the leaders of modern automotive technology, but in their drive for safer, environmentally friendly motoring have they strayed too far from their 4×4 roots? We take a drive in one of the first Mitsubishi 4x4s to find out…
Words: Bob Cooke Photography: Nigel Fryatt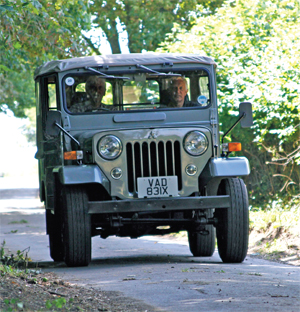 There's something somewhat ethereal about driving Mitsubishi's cutting edge Outlander PHEV. It's not the silence when cruising around town on its electric motors; it's more the feeling of remoteness from the driving experience, which leaves the driver feeling rather like the captain of a ship relaying instructions for someone else to perform the required manoeuvre. Certainly the unearthly silence as the car pulls away adds to the overall effect, but it's not the hybrid technology that drains the car of any feeling of excitement, it's just the growing trend among most mainstream manufacturers to cosset the occupants of their cars against the harsh realities of bustling traffic by engineering the feel and feedback out of controls and switches so driving becomes more like playing a computer game, while packing in worthy but control-sapping technologies such as lane departure warnings, parking sensors and even automatic accident avoidance systems to counter the consequent loss of concentration as the driver fiddles with the multi-media touch-screen display. In the Outlander hybrid, the effect is enhanced by a transmission controlled by a computer-like joystick devoid of the positive action of a proper gear lever, the driver's attention meanwhile being drawn from the road ahead by the large graphic dashboard display showing whether it's the electric motors or the petrol engine or both at work, as if the driver a): needed to know, considering that the whole idea of seamless interaction of the various propulsion and battery charging modes is that it requires no input from the driver and b): couldn't tell when the petrol engine cuts in by the added noise and vibration. There isn't much of that, but only the most insensitive soul wouldn't notice it.
Not that any of this makes the Outlander hybrid an unworthy car, it's just not an SUV for the enthusiast; the sheer bulk of the car with its remote feel, heavy expanse of dashboard and high waistline may engender a feeling of enhanced safety in timid folk who drive only because they have to, but it does little to excite the imagination of anyone who drives for the love of it.
The Outlander is indeed a far cry from the first of the Shoguns, a truly hands-on Mitsubishi which in its original three-door form back in 1983 enthused us so much on our first off-road test that we were moved to wrap kamikazestyle headbands round our heads and announce the car's arrival with a stirring, and wonderfully non-PC, 'Banzai!' headline. The reason for mentioning the Shogun is that it was actually at the time of its UK launch that we became aware of an even earlier 4×4 manufactured by Mitsubishi.
---

To read the full report see the November 2014 issue of 4×4 Magazine. Buy it here