One of the most individual events on the off-road calendar, Mudmaster is a mixture of on and off-road driving skills, navigation, orienteering, even a quiz on the Highway Code. Quite a challenge, therefore, as we discovered
Words and photography: Alan Coutts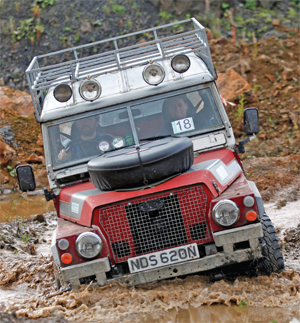 Mudmaster is planned with military precision; "improving road safety, developing both on and off-road driving and map reading skills", the organisers say, and it does all of these and more. So what can crews expect? All action navigation, trials, autotests, regularity runs and orienteering through forest, over field and quarry sites across central Scotland. This year a dozen or so MAN SV military trucks are in the mix, going through their off-road paces on various sites; they are truly impressive, with semi auto selectable boxes and diff locks to die for. What if they got stuck? The army has the latest recovery answer on site – a 32 ton MAN heavy recovery truck capable of retrieving the heaviest vehicles on operations. Powered by a 440bhp, 10.5-litre, Euro 4 compliant six cylinder turbo diesel engine, it has 8×8 wheel drive and self-levelling suspension to negotiate rough ground. It can pluck a truck right out of the mud with a lifting capacity of 15 tons at a distance of 2.3m, and can tow a 44 ton vehicle should the need arise. It's well impressive.
Crews chatted happily in the watery morning sun after scrutineering, and from the accents it was apparent that Mudmaster had attracted teams from all over the UK and beyond; a huge 69 entries, which with passengers meant hundreds of happy off-roaders had turned up for the event.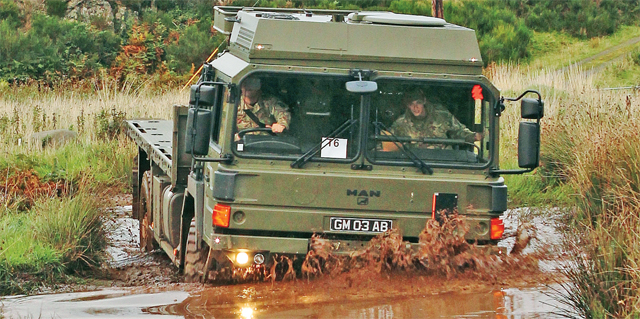 Each team was issued with a roadbook showing grid references for the sites on OS maps, plus detailed maps of the sites themselves; no satnavs were allowed, just old school navigational skills. Trials sections, such as the sprawling former coal site at Twechar, had no time limit applied, and it was here that the army put their heavy LGV Man trucks through a series of autotests, boxing and weaving around the cones. Trials areas were laid out round tricky, curling sections, with numbered canes to be driven through sequentially – touch them, and it's game over. For the autotest, each crew was required to drive a set course including reversing, timed to the minute with penalties for hitting the markers, missing the boxes, and every minute slower than the bogey time set by the organisers. The road safety test paper included a Highway Code quiz and questions on defensive driving, and it showed that not everyone had the same idea of the word 'defensive'.
---

To read the full report see the Winter 2013 issue of 4×4 Magazine. Buy it here