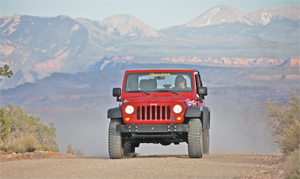 For many, this is the ultimate dream for any real off-roader. The great thing, however, is that this is available to all. Get yourself to Moab, Utah, hire a Wrangler and hit the rocks… not literally, of course
Words: Kev Baldwin Photography: Wayne Mitchelson
Imagine, being able to drive say, the Scottish Highlands or the Lake District and drop by the local information centre to pick up the National Trusts' guidebook on the best places to drive off-road within the respective National Parks. Guidebook in hand, you drop by the local store for supplies before heading out into the wilderness with mile after mile of empty tracks to explore at your leisure. If you opt to camp you can be gone for days with just you and your 4×4 for company. Too good to be true? Of course it is… It's never, ever, going to happen in the UK or anywhere else in Europe for that matter, but in the American state of Utah, things are a little different.
The town of Moab is to off-road and 4×4 enthusiasts what New Orleans is to jazz fans and Memphis and Graceland are to disciples of Elvis Presley. Put simply, it's the closest thing to off-road nirvana you're ever going to find. Best of all, you don't need to ship your own 4×4 across the Atlantic to get a slice of the action. Moab is set-up perfectly for the day tripping off-road driver making it an essential stop-off destination for anyone on a fly-drive tour of the American South-West.

Home to just 5000 people, Moab (pronounced Mo-ab) lies 250 miles south of Salt Lake City where the dried up lake beds favoured by the land speed record attempts and hot-rodders give way to the desert and the iconic red-rock archways and Buttes of Arches and Canyonlands National Parks. And it's the mile after mile of trails within some of the finest scenery in the world that is guaranteed to blow your mind.
Once you've hit town, you're going to need a vehicle. You can of course use the 4×4 that you've maybe hired for the duration of your stay in the US, but be careful of rental agreement small print that forbids you from taking that shiny hire car off-road. Okay, I'll admit I've ignored the small print on plenty of occasions and luckily I've never damaged a vehicle, but the downside are the hours spent in various car wash facilities, normally late at night, desperately trying to remove all traces of tell-tale Moab spec' orange dust from the car before handing it back! Another thing to be careful of is there's no guarantee the 4×4 SUV you've pre-booked online is in fact the 4×4 version of, for example, a Jeep Cherokee (Liberty). The rental companies prefer the 4×2 versions of the popular SUV vehicles and my own experience suggests that no matter what the website says, that 4×4 that you thought you had booked may not even exist at your airport pick-up point. Luckily Jeep rental in Moab is one of the town's largest industries so get yourself a soft-top Mustang or Camaro for your US road trip and simply do an 'on-the-spot' rental from any number of Jeep rental companies on Moab's main street.
---

Read more about this 4×4 adventure in the January 2013 issue of 4×4 Magazine. Buy it or subscribe here