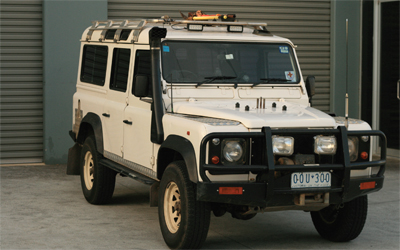 For many, there's only one real 4×4 and therefore only one vehicle that you should consider modifying. Even for those not complete devotees, the Land Rover has to be an ideal 4×4 to get the personal touch – as this Defender owner explains…
Words and photography: Michael Konstantinou
This Defender is a 300Tdi Station Wagon and it serves as a daily driver, a long distance tourer, as well as a weekend toy. The beauty of the Defender is that it does it all, and it does it all so well, you can really get stuck in and personalise, whether that's for the ultimate cross continent expedition, or just for a touch of occasional weekend mud-plugging. Or even, just because you can!
Taking a look around my Defender, at the front, the TJM Bull Bar was actually fitted by the previous owner. He chose the TJM bar as it accommodated the Warn Hi Mount winch better than the ARB bar. What has been pleasing is that over time, the TJM Bar has proved to have much better rust resistance than similarly aged ARB bars, though the redesign of the later ARB bars seems to have addressed that issue.
The Warn winch was also fitted by the previous owner, with extra cable length. I probably would have gone for a low mount, but that's because I'm fiscally tight. As yet there's been no need to replace the cable, but when that happens it's sensible to go for synthetic rope for safety reasons, but otherwise it's been a great asset.
A stainless steel grille has been recently fitted to allow some room between the winch and the grille. With the original grille, the winch actually touched it, preventing the fitment of an insect screen or fording blind. The new grille bows a little due to the air conditioning thermo fan on the front – those readers with sharp eyes will have noticed this is actually an Australian spec Defender. The result of the new grille is an improvement over the original in my view.
---

Read more about this 4×4 modification in the April 2013 issue of 4×4 Magazine. Buy it or subscribe here