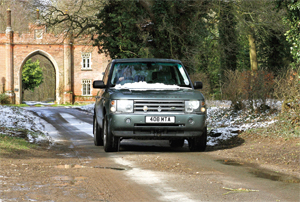 Today, we have to cope with the ever-increasing cost of petrol, so if there was an alternative that was around half the price, shouldn't you consider it for your 4×4? We went to visit WCRLPG to find out the latest about this alternative fuel option
Words: Nigel Fryatt
Photography: Nigel Fryatt, WCRLPG
There was something wonderfully appropriate when Mark Wain showed us under the bonnet for our first view of one of his LPG conversions. It was fitted to a lightweight Land Rover of late 1970s vintage; technically simple, and easy to understand and appreciate, the conversion looked as though it was designed to be there. There was nothing add-on about it… apart from the fact that the LPG vaporiser was a little bit cleaner and more shiny compared to the rest of the Land Rover's hard worked engine. A neat conversion and it had been completed by Mark's 14-year old son, Joseph.
It was appropriate as the origins of LPG-powered cars are thought to go back to the 1940s and the fuel was being used due to a shortage of petrol. Today, there's a similar shortage, not of petrol admittedly, but of the cash to pay for it. Not surprisingly therefore demand for LPG-conversions is keeping Mark Wain very busy, and most of that business is on 4×4 vehicles, which is why we were there to find out more. With petrol costs rising inexorably, is this the way you should go with your 4×4? Time for an admission here, this author has little experience of LPG powered vehicles, so we went to Mark's Norfolk premises with an open mind, and a lot of questions. The time spent there was certainly eye opening and has convinced me that LPG conversions and 4x4s go together pretty well, and that the number on our roads is likely to grow.
Mark Wain has been in the car conversion business since he was 15, working on classic cars. Interestingly, it was the change in fuelling that hit classic cars when petrol went unleaded that actually got him started with LPG. His business was classic car restorations and when the fuelling changed, taking the lead additives from standard pump fuel, a lot of his time was in doing 'unleaded' cylinder head conversions – which brings back memories, since I remember having just such a conversion done on my Ford crossflow engine in my Caterham Seven by the then well-known British engine specialist, Oselli. Those were the days…. The unleaded cylinder head conversion was certainly popular at the time and it seems that some members of the classic car fraternity particularly those driving Rovers, then asked Mark as he was doing unleaded conversions, would it be possible to convert their classic Rovers to LPG? A few were done, and the whole thing snowballed and now after over 20 years in the business, Mark is concentrating on LPG conversions to 4x4s and after spending the day in the particularly windswept and frozen wilds of North Norfolk, we can fully understand why.
---

Read more about this 4×4 story in the May 2013 issue of 4×4 Magazine. Buy it or subscribe here