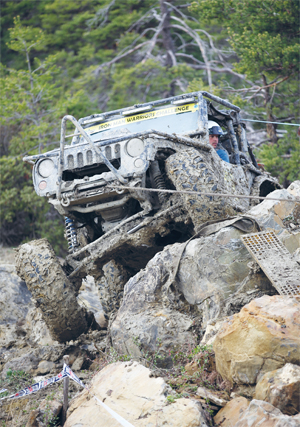 The Ironman Challenge France is a superb event, with technically demanding rocks, tumbling streams, thick wooded hillsides, generous scree and wicked graded sections, seasoned with a massed start and a truely spectacular finish. A must for all super hero 4×4 competitors…
Words and photography: Alan Coutts
Soft morning light flooded the cabin as the Citroen 4×4 climbed the spiralling Col des Tourettes, 1126 metres of pass laced with pebbles and rocks; just over the narrow summit road, hairpins tumble down to Montmorin, a village of honey coloured stone walls and gentle meadows that hosted the premier Ironman Challenge France.
Previously called the X-Trem Challenge France, the Ironman brought teams from England, France, Germany, Switzerland, Italy and Poland to pit their skills at one of the most technically renowned challenges on the circuit. The action started after dinner on Thursday when crews headed into the glowering forests for the start of section A or B night stages, to collect as many punches as they could. It was an evil night of numbing cold on the steep hillsides, with sections lurking in cold mountain streams, or among rocks and mud interlaced with sturdy trees standing like silent sentinels. Competition ceased at 2am when the service crews took over to prepare their cars ready for a 10am line up on the Friday morning. La Rascasse the restaurant took care of the body, but the mind was soothed by a blessing for a safe event from the impressively modest local priest. This is just one of the moments that made the Ironman different – despite rollovers, synth ropes breaking and melting, cars drowning and electro mechanical failures of many kinds, no one was injured.
At each drivers' briefing Aventure Girousse Organisers, Jean François Larpin and Gilles Girousse, allocate a marshal to each vehicle, the officials changing places each outing to keep the playing field level. There were 23 sections to choose from graded by severity into yellow, red and black, each given a maximum finishing time that rose with the degree of difficulty, such as two hours for the black runs. The weather suited the British as the Montmorin microclimate could and did deliver four seasons in one day, but the snow just dusted the alpine peaks this year. As if to compensate, regular rain showers, strong winds, sunshine and cloud ensured the amazingly grippy mud never wholly dried out. I watched spectators glissade along on some of the sloping fields, arms flailing like demented dancers before all was lost on the slippery floor, all met with good humour as part of the fun for friends and families.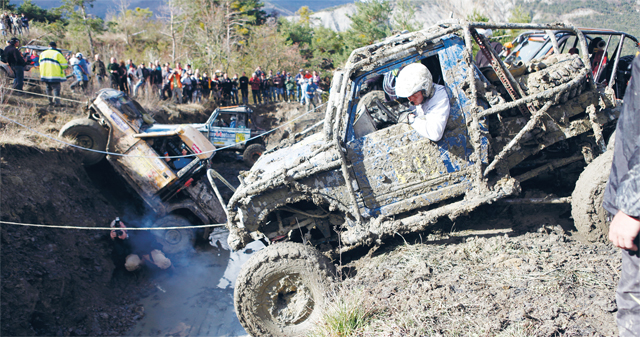 Who to contact
www.aventuregirousse.com is a lively site that gives all the latest information. It's usually in French, but run it through a translation programme for a fascinating interpretation.
---

Read more about this 4×4 adventure in the June 2012 issue of 4×4 Magazine. Buy it or subscribe here