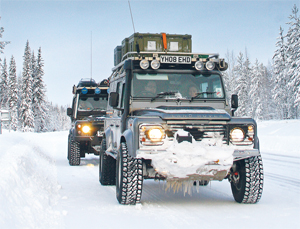 It's closer to home, so why not consider Northern Europe? Your guide is Ian Woolley and he can take you in search of those mystical Northern Lights
Photography: Ros Woodham

There are few people who do not have witnessing the Aurora Borealis on their life's wish list. Throw in winter wonderland landscapes straight from a postcard and the chance to visit the Ice Hotel or a snowmobile trip across the tundra and it is easy to see how attractive Scandinavia is as a winter overlanding destination.
However, most would view a trip into this beautiful, yet hostile, environment with a certain amount of trepidation. We intend to change that and give you a taste of what a traveller of Northern Sweden and Norway can expect (beyond Schnapps and saunas!) and what vehicle modifications they should consider.
For any trip, a solid, thoroughly serviced vehicle is an essential starting point along with comprehensive European car insurance. For a trip like this you need a well running vehicle. Impurities in the coolant mixture degrade its performance, so as part of your pre-trip service, it is worth flushing your coolant and refilling using a more highly concentrated mix. For my own vehicle, a 2008 Land Rover Utility, the Texaco Havoline derived coolant is usually mixed at a concentration of 50% with distilled water. This protects the system down to minus 37degC, which, should be sufficient, but is a little close for comfort to temperatures, which might be experienced. A 60% mix will protect below minus 55degC, which provides plenty of margin.
It is likely that most brands of windscreen wash supplied in England will be frozen in your washer bottle long before you reach Oslo. Look out for 'Spolarvatska' over there, which remains liquid down to nose-dribbling temperatures. I have not experienced any problems with the standard engine, gearbox, transfer box and differential lubricants' performance on my Land Rover, but it is worth checking the specification of your particular set up.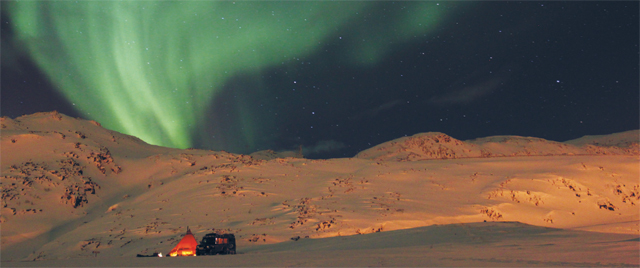 It is also worth examining the manufacturers own modifications appropriate to your vehicle when sold into the Scandinavian or Russian markets. My own vehicle requires a heated engine breather, which I had fitted by my local dealer at very little cost. It is always good practice to schedule any service work for the vehicle at least 500 'at home' miles before you leave to make sure that no new gremlins have been introduced.
YOUR NEXT MOVE

Webasto Thermo Top
www.webasto.co.uk
Specialist heaters
Eberspacher
www.eberspacher.com
Specialist heaters
Odyssey
www.odysseybattery.com
High performance batteries
Space Cases
www.trimcast.com.au
Storage solutions

Read more about this 4×4 adventure in the February 2012 issue of 4×4 Magazine. Buy it or subscribe here