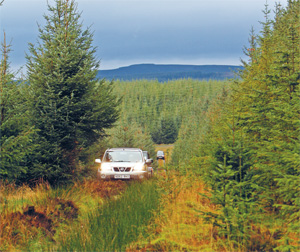 Northumberland is often overlooked as a tourist destination, but when joining the excellent Kielder 4×4 Safari that weaves along the tracks of The Forestry Commission's Kielder Forest, we discovered a hidden gem
Words and photography: Hils Everitt
A heavy mist hung over the rich hues of the bracken and pine trees, blocking out what would have been a stunning view over the Kielder Forest. But we were not in poor humour – yes, OK, we lacked the magnificent vista, but we were enjoying a superb day out on the normally out-of-bounds forestry tracks of the northernmost reaches of England, cosseted in the warmth of our 4x4s as we sauntered along thoroughfares lined with the most lavish colours of autumn.
Northumberland is, sadly, one of those counties that gets rather forgotten, sitting as it does at the farthest tip of England, and is often regarded as just 'that bleak bit' that you bypass on the way to the lowlands and, ultimately, highlands of bonny Scotland. This is border country, often associated either with the industrial sprawl of Tyneside or the bleak moorland of the Cheviots Hills, which many dismiss to their detriment. Well, Northumberland is equally bonny. Fair enough, it may not boast huge mountain ranges and an abundance of eerily atmospheric lochs, nor a mythical (or not?) monster, but it certainly hides delights that are worthy of the attention of anyone who loves the outdoors and enjoys beautiful scenery.
To the north of the county, almost in Scotland itself, is a stunning area of vast open space within which sits the glorious Kielder Forest. And this is where a regular 4×4 Safari is held in conjunction with the Forestry Commission, which owns the land, to raise funds for the Northumberland National Park Mountain Rescue Team.

KEILDER CONTACTS
Kielder 4×4 Safaris raise money for the magnificent Northumberland National Park Mountain Rescue Team. Our event raised £900 for the team and also converted many novices to a life of organised greenlaning, so all in all a great result!
If you want to join one of the many events held in 2012 visit www.gton.co.uk for dates and details; email: [email protected], or call 0844 588 9965. A day's safari in Kielder Forest costs £50 per vehicle, and that includes breakfast at Kielder Castle for the 4×4 driver.
For more information and to make a donation to the Northumberland National Park Mountain Rescue team visit www.nnpmrt.org.uk or www.northumberlandnationalpark.org.uk for info. It was formed in 1960 by voluntary NP wardens after two shepherds died of exposure in the Cheviot Hills while returning from market. There are now around 50 full team members.
The team also organises the Grand Tour of Northumberland, which is a more family-orientated day out including visits to the historic town of Rothbury, Hindhope Lin Waterfall and Bakethin Nature Reserve; there may even be some porcelain painting included. For more information call Laura Hull on 07774 9700 464.
Information on Kielder Castle and the delights the county has to offer are available from:
www.visitnorthumberland.com/www.visitkielder.com/www.forestry.gov.uk
---

Read more about this 4×4 adventure in the April 2012 issue of 4×4 Magazine. Buy it or subscribe here