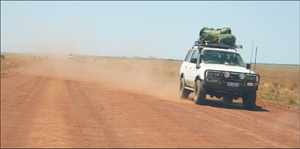 The colourful landscape and language of the Australian Outback is like nothing else on earth. Nick Redmayne hired a Mitsubishi Pajero to tackle the remote and challenging Gibb River Road and survived, with most of his Pommy pride intact…
I shouted: "Neville…Neville…er… Neville..?" Where was he? It was dark, a dazzling absence of ambient light in which eyes strained wide, aching for a clear view of nothing. Eschewing the European badge of shame that is a Petzel headtorch, I stumbled warily through unseen undergrowth – the Outback does not suffer Pommy nerds gladly and I needed empathy, and, more specifically, one of Neville's spanners.
The Gibb River Road stock route runs over 660 of mostly corrugated dirt kilometres from Derby to Kununurra. For those looking to explore their Mick Dundee-esque fantasies, it's one of Australia's most achievable off-bitumen road trips, traversing Western Australia's wild and beautiful Kimberley region. By Australian standards WA does remote rather well, and having just one sealed highway and three settlements with a resident population over 2000 in an area of 420,000 square kilometres, over three times the size of England, the Kimberley excels.
About 230km from Derby, round the back of the decidedly cashed-up and closed Imintji roadhouse, at last a pool of light spilled from the deck of a weatherboard house. Was it Neville's house? A large dog roused itself and squeezed off a volley of disconsolate barks, interspersed with these a one-sided rant drifted across the yard: "What's that? There's some bloke shouting. Wonder what he wants? Where the hell is he mate?" I had found 'Neville's Over the Range Mechanical Repairs'.
"It's a bit late for the workshop. What size do you need mate?" enquired a whiskery Neville.
"I think it's M8," I replied.
"Mate?" He looked momentarily confused.
"No, M8. But I could be wrong?"
"Ahh, right. I'll have a look for the b****** mate." And off he went back inside.
Affable Aussies
I recalled an earlier conversation with the affable 'bloke' at the car hire company when picking up the Mitsubishi Pajero: "So, you are giving us two spares?" I enquired.
"Nope, just one mate."
"And a compressor?" No harm in asking…
"Nope, we just pump 'em up high, it's better that way." Was I missing something?
"As well as the Jack, what about tools?"
"No mate, that's it. If there's a problem just turn off the ignition, take out the key and then turn it on again. If that doesn't fix it there's probably nothing you can do about it anyway." It felt like a conversation with Budget Broadband Support and not a car rental company. Anyhow, this minimalist approach to tool provision hadn't accounted for the Pajero's sump guard being half shaken off by the Gibb's world-beating corrugations, hence my gratitude to Neville for the spanner.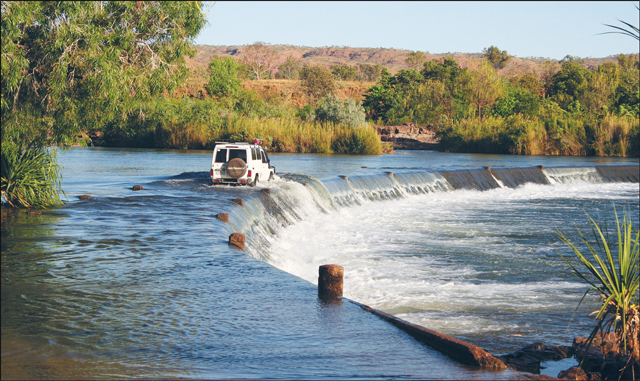 It had been an early morning start and a long day's drive from Broome – already 12 hours. Outside Derby, a few kilometres from the start of the Gibb, the Mowaljum gallery offered an illustrated Aboriginal take on the origins of the Kimberley plateau. Tales of dancing brolgas (birds), dreamtime snakes and capricious spirits were immediately memorable, more so than the geology of plate tectonics. Then, having hiked a shady trail through pandanus palms to the wide sandy floor of Windjana Gorge, an ancient primordial reef now devoid of fish thrust sharply skywards overseeing more freshwater crocodiles than you could sensibly shake a stick at. Later, afternoon siren calls from the pools and cascades of Bell Gorge drew us down forest trails to clamber over sun-warmed, polished rocks and immerse our dusty selves in God's own Jacuzzi. The Gibb connects one enticing natural distraction after another. That we were now driving in the dark confirmed too much had been attempted in too short a time.

Read more about this 4×4 adventure in the May 2011 issue of 4×4 Magazine.