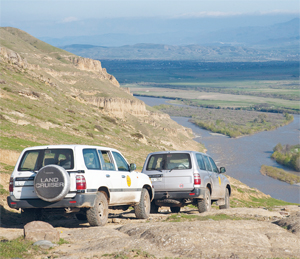 We join a well organised off-road tour taking a Toyota Land Cruiser through Georgia, the fascinating former Soviet country – not the one in the US of A!
Words and photography: Toby Savage

A quick straw poll of mates in the pub revealed that none of us, among a fairly well travelled group of about a dozen, had ever been, or knew of anyone who had ever been, to Georgia. Once we'd got the predictable 'Taking The Midnight Train To Georgia' and 'Rainy Night In Georgia' comments out of the way, we all realised just how little we knew about the former USSR country that sits precariously between Russia, Turkey, Armenia and Azerbaijan. One of our better-informed mates seemed to remember there was a war there quite recently. It transpires it was with Russia, and as recent as 2008!
An invitation to explore large chunks of this interesting country from the comfort of a Toyota Land Cruiser was irresistible. A 4×4 makes perfect sense when travelling in a country with few paved roads and as we pulled out of the Georgian capital of Tbilisi the potholes and puddles confirmed we had the best choice of wheels. Our first destination was to the monastery of David Gareji, in the low Caucasus Mountains. Driving out of Tbilisi, the architecture soon changed from cosmopolitan city to dilapidated Soviet concrete on the outskirts of town, and then within a very short time we were on a minor road and climbing through villages that looked unchanged in the last 100 years. It was obvious that since gaining independence from Russia back in 1991 regular employment had not featured heavily here. Everything had a faded beauty, often found in poorer countries and a warm welcome from locals who greeted us with genuine affection.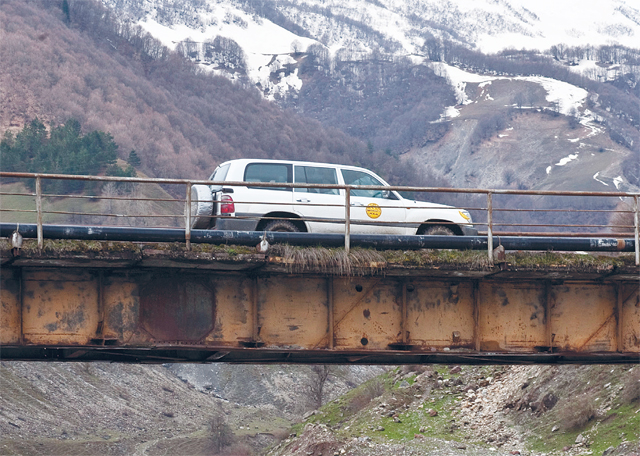 Our minor road became a potholed track as we drove high across green plains that bore striking resemblances to North Yorkshire! The only other vehicles we saw were fellow 4×4 drivers – their choice determined by necessity in this remote landscape, rather than out of a desire to explore. The monastery sat at the highest point around and overlooked the border with Azerbaijan just 2kms away. It enjoyed a commanding view of rolling hills punctuated with the occasional farm house and what appeared to be thousands of dots – each one a sheep, grazing on the rich highland grass. The humble sheep is a big part of the economy up here, supplying everything from kebabs to sheepskin hats and the shepherds that look after them must rank among the hardiest men on the planet. They have help on hand from terrifyingly large dogs bred to keep the wolves at bay. It sounds rather cruel, but the dogs have their ears cut to accentuate their hearing and allow early warning of approaching wolves.
Taking the midnight off-roader to Georgia
Toby Savage travelled with Medraft who have been running 4×4 Self Drive tours of exciting places for 11 years in 13 destinations, as varied as Iceland in the North to Guatemala in the South. Their key interest is to promote nature, adventure and culture in each country and they know there is no better way to do this than from a 4×4. All tours are self-drive in a variety of 4x4s from the big Land Cruisers to the smaller Suzuki Vitaras. Most tours are from 8 to 10 days duration and will be run by a local guide. The cost of a nine day self drive tour of Georgia, the Wild Caucasus and Svaneti heights works out at approximately £1175 per person, plus flights. For full details see the Medraft web site at: www.medraft.com, or call them on 0208 1500 687.
Read more about this 4×4 adventure in the October 2011 issue of 4×4 Magazine.