Guest blog by car enthusiast Aurora Johnson on behalf of www.centralcontracts.com – a specialist car leasing company.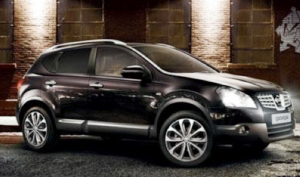 Nissan has been on a roll recently. The Nissan Juke, Leaf, GT-R and 370Z have all been extremely popular, but there's one other car that's been particularly amazing – the Nissan Qashqai
It may have a slightly strange name, but the Qashqai is without a doubt one of the best cars to be produced by Nissan in recent years.
If you're still a little sceptical, allow me to educate you with these five reasons why you should love it:
1) The good looks
The Nissan Qashqai is a compact CUV (Crossover Utility Vehicle) – it essentially looks like a mini SUV, but comes with many features seen in a hatchback. It's bold, roomy and modern, with lots of sleek lines and smooth edges.
It also comes in all kinds of colours, such as silver, caffe latte, gunmetal, red, black, white, charcoal and more.
2) The energy saving benefits
As well as all of its other benefits, the Qashqai is also much better for the environment than some other vehicles around at the moment.
It comes in on Band D for CO2 emissions in G/KM, which means its emissions are between 121 and 130. This is similar to the Juke, Note and new Micra.
You're also likely to find that you exceed the quoted 36.6MPG, as many other drivers have. You can easily achieve 45-50MPG with this car when driving sensibly.
3) The price
The cost of this little beast is also pretty exceptional – on the Nissan website, prices start at just £16,895. If you choose to buy this car on lease, you're looking to pay around £170 per month. You can also benefit from lots of sales and money off deals if you buy through a dealership.
4) The optional extras
There are a whole host of optional extras that you can add to your Qashqai, including ambience lighting, chrome mirror caps, chrome door sill strips, alloy wheels, chrome fog lamp rings, a front styling plate and more. So, you can truly personalise your car.
5) The safety ratings
If you want a car that's as safe as possible, you should absolutely choose the Qashqai. According to Euro NCAP, the Qashqai has a score of 37 for adult occupants, 40 for child occupants and 18 for pedestrians when involved in a collision.
The car also comes with ISOfix fittings in the back seat, and has driver, front passenger, side body and side head airbags.
Do you know of any other reasons why the Nissan Qashqai should be your new favourite car?