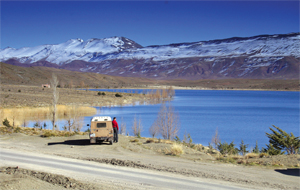 It's not all about satellite phones and high tech GPS devices. Sometimes, it's just that Morocco's warm winter sun is so overwhelming. And you can get there with a Land Rover, a compass and a map – such are advantages of back to basics overlanding
Words: Ros Woodham Photography: Ros Woodham and Jimmy Hayes
Beneath the weight of our expedition gear, the 1984 Land Rover Santana 88in sank onto its rear axle. The rear leaves had long ago lost their significant curve, but she was in good company beside the other ageing and overloaded Mercedes queuing up to cross the Moroccan border.
The idea for this expedition arose as a challenge. My Series III had been off the road for several years and I needed a reason to revive her. My co-driver, Jimmy Hayes, dreamt up the idea and was probably the only other person willing to undertake this journey in 'Trucky'. To complement our 28-year-old steed, we had decided to use conventional navigational techniques: a map and compass. We believed that travelling in a classic vehicle would help penetrate the cultural barriers that a more modern 4×4 might present, and the absence of technology would promote communication. We planned a loop crossing to Melilla from Almería in Spain and heading south towards the Erg Chebbi dunes in order to spend Christmas in the Sahara. West from Merzouga to the Todra Gorge, where we would travel north crossing the High Altas towards Fes, and our final waypoint in the mountain village of Chefchaouen for New Year. Our return to Europe would be a shorter ferry hop from Ceuta to Algeciras.
Using a 1:1,000,000 scale map meant relying on road signs or advice from the locals to check our direction. While refueling in Guercif, I approached a taxi driver to confirm the road to Missour. His reply was in good English and accompanied by a broad sweep of the hand: "Go to the end of the country and turn right." Once we realised that 'country' meant 'town,' his directions were perfectly accurate. At a steady 50-60kph on good roads, our target 300km for the first day was achievable but it meant completing the last few km to Missour in the dark. Our badly adjusted headlamps blinded other road users so we continued with limited visibility on low beam; however, the biggest nocturnal hazards were pedestrians, donkeys, carts, dogs and bicycles, which would loom out of the darkness into our path. Being seen is neither a priority nor legal requirement in Morocco.
---

Read more about this 4×4 adventure in the May 2013 issue of 4×4 Magazine. Buy it or subscribe here