Some have the view that BIG is always BEST! When it comes to off-roading, it doesn't get much bigger than this. Welcome to the Europa Truck Trial. Words and pictures: Toby Savage.
Words and photography: Toby Savage

Like big beer festivals, Boule and Bridget Bardot, the Truck Trial has largely stayed on the other side of the Channel, but this year there was an event just an hour's drive south of Calais, putting it within easy reach of the UK. Thiembronne is a small village to the south-west of St Omer, a boule's throw from the A26 autoroute and set in a region that is deeply French in character – tourists from northern Europe tending to speed straight past in pursuit of sun in the south. But the sun shone brightly all weekend on the large gathering of trucks and supporters spread out along a wooded valley on the edge of the village.
It was encouraging to see that we were not the only Brits who had turned out to watch the event and the expression, 'Blimey – did you see that?' mingled with the 'Mince alors! Avez-vous vu ça?' and the 'Hast du das gesehen?' French lager was washing down trays of frites and the distinctive whiff of Gauloises hung in the air.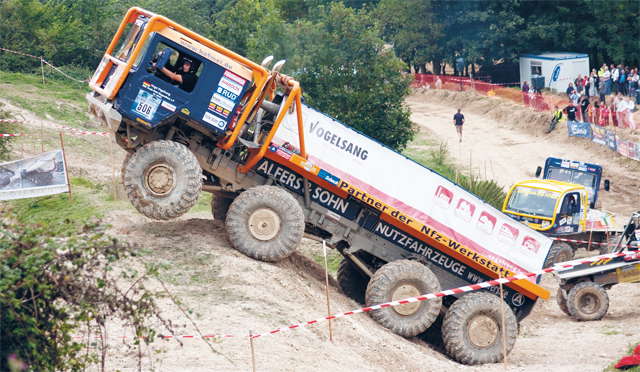 Broadly speaking, the competition runs along similar lines to our own 4×4 trials in that there are pairs of canes set out in pairs along a seemingly impassable course and each truck has to pass through the gates collecting points for either hitting the cane or not making it. Where the rules differ from ours is that there is a 15 minute time allowance and the gates can be driven through either forwards or backwards. The competitor with the least number of points at the end of the day wins. There are classes for Prototype 4x4s with four-wheel steering and fiddle brakes, regular 4x4s dominated by Unimogs, then bigger 4x4s such as the only British truck entered, a Bedford ML. Moving up the scale there are big 6x6s and finally the ones everyone wanted to see – the 8x8s represented by MAN, Mercedes and Tatra. Real monsters!
---

Read more about this 4×4 adventure in the December 2012 issue of 4×4 Magazine. Buy it or subscribe here