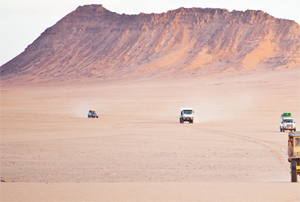 In this second instalment of an ambitious desert adventure, mirroring the activities of the WWII Long Range Desert Group, the team honour their forebears, then tackle the drive north through a dramatic sand storm in the Great Sand Sea
Words and photography: Toby Savage
Despite the concerns of our military escorts, we enjoyed an uninterrupted night camped on the edge of 'bandit territory' and awoke ready for another glorious day of driving our matched pair of LRDG replica Jeeps along routes used during WWII. We were near a famous landmark called 'Three Castles', comprising three enormous rock outcrops that are clearly visible from about 80 miles in any direction. These were used as surveillance points to track enemy supply convoys and it was on one of these that we elected to place our own memorial to the brave lads who endured hardship, danger and adventure 70 years ago.
Sam Watson instigated the design and making of a brass plaque and John Carroll had manfully struggled out with a large poppy wreath in his hand luggage with the intention of us mounting both in a suitably poignant spot. High on one of the 'Three Castles' seemed perfect and with epoxy adhesive and bits of bent wire we fashioned a reasonably permanent epitaph to our heroes. Sam said a few words and we observed a minute's silence in memory of those who did not make it back, before climbing back into the Jeeps and heading off.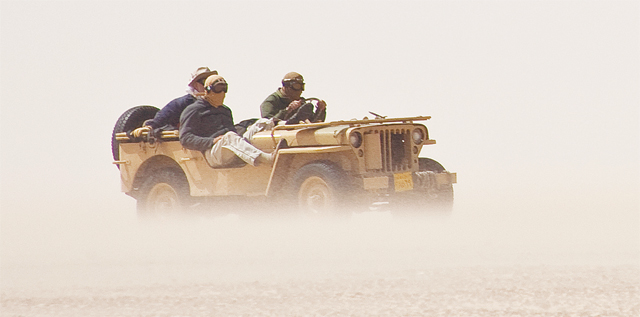 As we were in the vicinity we took a brief break from LRDG history and looked instead at the rock art spanning 10,000 years of habitation of the area. Two major sites were within easy reach, the 'Foginni Cave', depicting bizarre headless creatures and hunting scenes, then on to the 'Cave of the Swimmers' with red ochre paintings of figures supposedly swimming. This cave had clearly had one WWII visitor, however, as carved into the soft sandstone were the initials 'G Yates M/C 1939'.
---

Read more about this 4×4 adventure in the September 2012 issue of 4×4 Magazine. Buy it or subscribe here