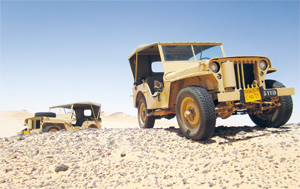 This must be one to the most ambitious expeditions ever mounted in a pair of 1943 Jeeps. Seven intrepid souls had clubbed together to ship their Jeeps from UK to Egypt and embark on a trip that would take them from Cairo to the borders of Sudan and Libya following routes used by the legendary Long Range Desert Group in World War II
Words and photography: Toby Savage
The vague punctuality of international shipping was starting to bite as I sat in Cairo tracking our container ship, Cap Harvey, as it dithered about mid Mediterranean. The ETA of 2nd April eventually became a real date of 5th April, just a day before our planned drive south into the Desert. Our full team had assembled at the Mena House Hotel, a favourite haunt for the officers of the Long Range Desert Group – the famous unit of the British Army, that had inspired the trip (see separate panel page 44). All was set for our adventure, except for a noticeable lack of two Jeeps. To make matters worse, the following day was Friday, the Arab worlds' equivalent of our Sunday. In a great 'Plan B' move, Sam Watson, our Cairo based LRDG expert, came up with a tour of relevant sites around Cairo enlisting his pal, Darrell Hardman and his three Land Rovers.
With toys to play with and interesting sites to visit we were happy. Battles with bureaucracy resumed the next day and by late afternoon we were ready to hit the road. The splinter group of us who had endured the lengthy process of importation at Alexandria Docks agreed it would be best to make up the lost time with an overnight drive south. With seven eager drivers we should be able to do it. We met the Cairo based contingent at a petrol station just south of the city and hit the road in an orderly convoy behind one of the Toyota 'Troupies' supplied by our logistics company, Siag Travel. A second Toyota brought up the rear.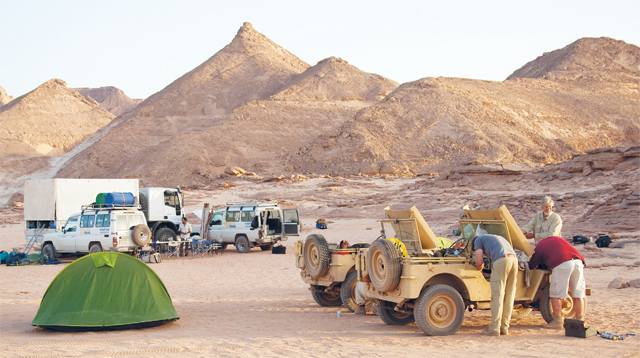 Long Range Group
The Long Range Desert Group was formed in Cairo in 1940 by Major Ralph Bagnold. His idea was that a small mobile unit could wreak havoc among the enemy by approaching from from the desert, rather than along the Mediterranean coast. The success of the plan relied on the pre-war adventures of Bagnold and his chums, Patrick Clayton, Rupert Harding-Newman, Bill Kennedy-Shaw and Guy Prendergast. Their amateur expeditions into the Sahara to relieve the boredom of being stationed in Cairo had given them an unprecedented knowledge of both the cartography and the means of traversing it. The LRDG used 2WD Chevy and Ford 4WD, 30cwt trucks, but when the Jeep came along in 1942 it was used in parallel, acting as a taxi to transport the newly formed SAS behind enemy lines. The distances they travelled with such rudimentary equipment are truly impressive often exceeding 2000 miles and being away for a month.
---

Read more about this 4×4 adventure in the August 2012 issue of 4×4 Magazine. Buy it or subscribe here