The Land Rover Defender: a true icon of the off-roading world and, some would argue, still the best off-road machine around. So it's not been traditionally known for on-road prowess or super speed over any terrain. But that was then, and this is now. Solihull's machine has now entered the lofty ranks of high-speed rally car…
Words and photography: Hils Everitt Additional action photos courtesy of Land Rover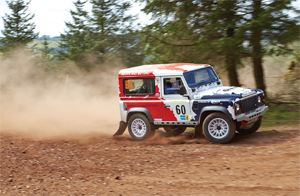 Yes, that's right, the Land Rover Defender is now regarded as a bona fide rally entrant, to be found lining up in rally stages alongside such luminaries as Mitsubishi Evos, Subaru Imprezas/WRXs and the ubiquitous Ford Escorts of various guises. And this is all down to Bowler Motorsport. Founder and MD Drew Bowler and his incredible team have masterminded the transformation of standard, factory-produced Defender 90s into the impressive rally cars that are now competing in the Defender Challenge.
The Challenge has been introduced to encourage those who want to get into Rally Raid, and perhaps, ultimately, the mighty Dakar Rally, but are perhaps rather daunted by the prospect of motorsport licences, rules and regs and prepping a suitable vehicle. Drew explains: "It all started when a customer said he wanted to get into rallying, but didn't really know how to. He wanted to make it to the big races such as the Dakar and other global rally competitions. The Defender Challenge is a great feeder series for preparing potential competitors in their bids to get there; it gives them a perfect training platform. And it was time to bring some new blood into the sport." It is also open to existing off-road and circuit competition drivers.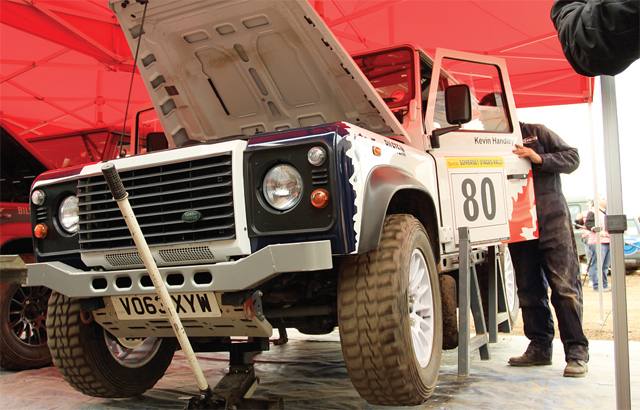 Drew chose the Defender as it is: "So versatile, robust and iconic. It has a strange attraction and it's brilliant to put it in an environment it's not meant to be in!" he says, smiling. Drew adds that Bowler Motorsport provides all the help anyone needs as a novice rally competitor. And that, of course, includes providing the vehicle. For £50,000 plus VAT, any aspiring competitor receives a Bowler-prepped rally Defender 90 that is fully compliant with FIA T2 regulations; an extra £10-14,000 gains them entry to the Defender Challenge, depending on what package they opt for. The extra includes full servicing, during and in between events, and is billed as a 'complete solution in terms of gaining a competition licence, training, development and, very importantly, competition experience'.
So how do you turn a 2.2-litre Defender 90 into a lean, mean racing machine? Well, Bowler takes delivery of a bog-standard 90 from the Solihull factory, tunes it up to 170bhp, with a nicely lengthened power curve, and improves the torque to a mighty 332lb ft from the standard 265lb ft. The standard six-speed manual gearbox remains, although it is operated by a rally-style, extended aluminium lever. One of the biggest modifications is with the suspension, naturally, as this baby needs to cope with tight bends approached at speed on rough terrain. The Bowler Motorsport suspension system includes heavy-duty Bilstein shock absorbers, bespoke Bowler coil springs (especially designed for this Challenge series), up-rated roll bars and bushes, plus a full, and mandatory, MSA-approved internal roll cage in case things get out of hand at any point. There are also upgraded mud flaps and mounting system. As we know, a Defender is not the lightest of 4x4s and, to help reduce tonnage, Bowler has fitted a bespoke lightweight bumper and sill protectors. Weight saving has also been applied to the lightweight, specially built 18in wheels, clad in Kumho tyres.
Defender Challenge Rally Schedule
7th June: Dukeries Rally, Southwell, Notts
19/20th July: Welsh Hillrally, Walters Arena, Swansea
30th August: Woodpecker Stages, Ludlow, Shrops
24/25th October: Rallye Sunseeker, Poole, Dorset
22nd/23rd Nov: Borders Hillrally, Dumfries, Scotland
Check out: www.bowlermotorsport.com
Tel: 01773 550074
Fbook: Bowler Motorsport
Twitter: @bowleroffroad
---

To read the full report see the July 2014 issue of 4×4 Magazine. Buy it here