Last month in our Atlas Overland adventure to the Mediterranean island of Corsica, our 4×4 convoy explored the central wooded lowlands and scaled the heights of the magnificent Monte Cinto. Now the tour heads north towards the stunning coastline and glorious beaches
Words and photography: Hils Everitt
Having basked in the glory of an ascent up the magnificent Monte Cinto in the central region of the tiny island of Corsica the previous day, our tour then journeyed to the north of the island.
This meant, sadly, that we had reached the final two days of 4×4 adventure company Atlas Overland's two-week tour of the lovely island that sits in the Mediterranean in between the south coast of France and west coast of Italy. Due to its position, Corsica has influences from both countries. Politically a province of France, its language, however, derives from its Genoese occupation and is very similar to Italian. Dialects do vary from area to area, even village to village, but if you speak some basic French you'll get by. Luckily, Atlas's Peter Girling is a good French speaker, so when we tried to get a replacement tyre for the Discovery 3, that had suffered a puncture the previous day up the mountain, he was able to discover that the required Pirelli 19in would not be available in time.
We continued on towards the coast with Dean, the Discovery 3's driver, treading carefully as he now had no back-up, since the puncture was in the sidewall and therefore not plug-able. The road to the coast from our picturesque, mountainous campsite at Venaco was winding and sticky. In the mountains we experienced a mixture of mist, light drizzle and welcome sunshine. Now it was humid with dark clouds looming as we wound our way north towards the Deserte des Agriates.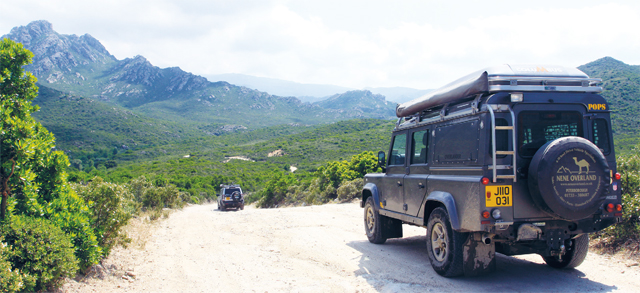 This is a 12,300-acre protected area of dense, picturesque scrubland that lies between St Florent and Ile Rosse, dotted with vibrant yellow gorse bushes and punctuated with outcrops of craggy rock. To get to the coast we turned off the winding highway onto a gravel track that was, thankfully, open, with no big bulldozers lurking on their regular maintenance missions. This is always likely to happen in Corsica and there is no way of telling if you are going to encounter one; but fortunately no barriers were down or signs up to suggest the route was closed that day.
ATLAS OVERLAND
www.atlasoverland.com
07834 637355
Email: [email protected]
---

Read more about this 4×4 adventure in the November 2012 issue of 4×4 Magazine. Buy it or subscribe here