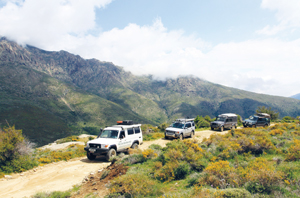 A superb destination for a 4×4 adventure, and one that is often overlooked is Corsica. Nestling in the Mediterranean Sea off the coasts of southern France and western Italy, it offers plenty of challenges and fantastic vistas. We joined Atlas Overland to explore the island.
Words and photography: Hils Everitt
Nestling off the south coast of France and also very close to the west coast of Italy, is a small island rich in history and culture, but often overlooked as a tourist destination. Yet it is wonderful place to visit and an ideal destination for a 4×4 adventure holiday.
Corsica came fully within French jurisdiction in 1769, after a bloody war of resistance followed the 1768 Treaty of Versailles which first decreed it should be under French rule. But it has many lingering Italian influences in its culture, geography and architecture. And it also offers a fine array of off-road tracks that have open access – well, as long as there is no repair or maintenance going on – and provide an array of first-rate driving experiences through beautiful, rugged territory with simply stunning views.
Corsica is not one of those 'regular' 4×4 destinations offered by all the adventure tour companies we have here in the UK. In fact, Atlas Overland is the only company that takes guided clients out there. This year the team featured two tours in spring, each lasting two weeks. We were lucky enough to join the convoy on the second week of the first tour. The clients were mainly repeat customers of Atlas, having been on its Pyrenees or UK Wessex Wanderer weekend trips. They had already been exploring the southern area of the small island for a week when we all met up at a car park on the road from Bastia airport. Their beaming faces clearly demonstrated what a great time they'd had so far and they were looking forward with anticipation to venturing into the heart of the island.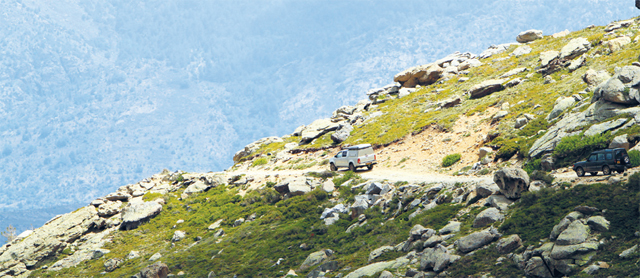 For this Atlas adventure we joined a fleet of ten vehicles; three Land Rover Discoverys (1,2,3), two Defenders (110 SW and pick-up), a lovely Series III with a 200Tdi engine, a Toyota Land Cruiser Colorado, Land Cruiser 80 Series, and the Atlas guides' vehicles – Alex Smith's Hilux and Peter Girling's Land Cruiser 120.
ATLAS OVERLAND
www.atlasoverland.com
07834 637355
Email: [email protected]
---

Read more about this 4×4 adventure in the October 2012 issue of 4×4 Magazine. Buy it or subscribe here