Thinking of going camping this summer? Paul Guinness explains what's involved and offers some useful advice for first-timers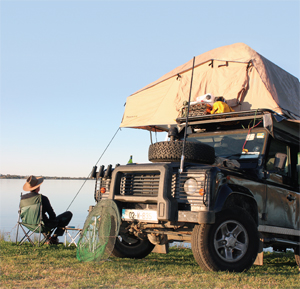 The whole image of camping has changed immeasurably over the last few years, as increasing numbers of people look to the great outdoors for fun and adventure – and realise that camping is no longer the back-to-basics activity that it once was. These days there's no shortage of fantastically well-equipped campsites offering clean and pleasant facilities. And, of course, the tents themselves are also vastly improved.
For many of us who own 4x4s, camping is an even more logical way to enjoy our leisure time. We own vehicles that can head off-road when necessary, and can carry more 'stuff' than your average family saloon. So why not make the most of the sheer usefulness of our 4x4s and get to enjoy some holidays (or weekend breaks) under canvas?
GOING FOR A GROUND TENT
Most first-time campers still opt for a ground tent rather than a roof tent, often with good reason. But as even the biggest camping novice knows, ground tents come in many different shapes and sizes – so how do you choose the tent that's ideal for your needs, and what are the advantages of a ground tent over a roof tent?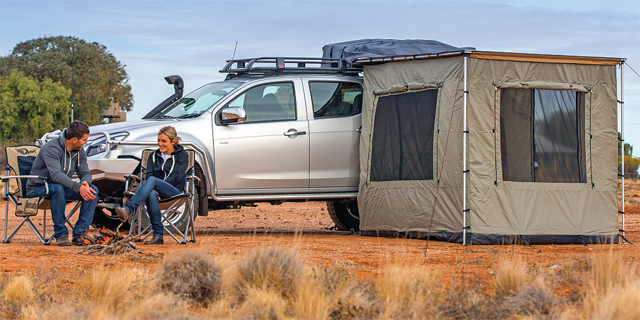 First of all, with a ground tent you've got a more 'permanent' place on the campsite, which means you can drive off for the day and leave your tent set up. Unlike roof tents, a lot of the larger ground tents are big enough to walk around in, giving you some living space in bad weather; and you'll find the same large tents also come with separate 'rooms', enabling different members of the family to enjoy a touch of privacy.
Ground tents tend to be available as dome-type (with flexible poles) or the more traditional frame-type, but which is right for you? Dome tents have their origins in the backpacking market, and make best use of modern materials and designs to ensure they're light and easy to transport. Nowadays though, they're available in larger sizes thanks to some clever geodesic engineering, and they're particularly good in poor weather conditions as they offer impressive levels of protection.
Companies like Terra Nova produce dome tents in a wide range of sizes, and prices start at surprisingly affordable levels. If you're looking for a dome tent that sleeps up to four (which would be equally suitable if there are just two of you and you crave some extra elbow room), you'll find them available from less than £100; that buys you the Grasslands 4, a tent that's particularly suited to the occasional camper or those on a tight budget. If you can stretch that budget to around £290 though, you can get the Aspect 4 tent, which provides some extra space and has been designed for those looking for quick and easy pitching.
---

To read the full report see the June 2014 issue of 4×4 Magazine. Buy it here