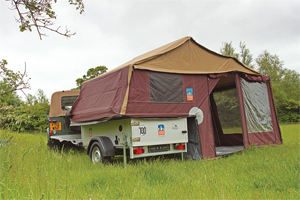 It is officially summer, so that means it must be time for a camping feature. Good accommodation for your individual needs is very important. With the help of Nene Overland we look at some varied tent options, which include some new options

Words and photography: Hils Everitt
If you are a 4×4 owner and enjoy the outdoors, then camping is a great way to breathe some fresh air and discover those delights that the UK, and the rest of the world for that matter, are offering. Good camping is reliant on good accommodation that suits your specific need, and that is where the tent comes in. There is a variety out there to suit 4×4 owners and their requirements.
Over the last couple of years another form of outdoor accommodation has sprung onto the UK market. Well, we say sprung but this form of tent has been around for centuries, we just have adapted it to the modern world. The Tentipi company is Swedish, but you can get hold of one via UK agents, one of which is Nene Overland.
This particular form of high comfort camping is de rigeur these days, but there are still other options if the larger living/bedroom-in-one isn't quite what you need. We asked Chris Hill, Nene's expedition specialist, his views on the various options, which include the 'new' Tentipi.

MODERN TWIST
Tentipi
The Nordic Adventure series of the Tentipi is a superb range that is all the rage and appearing everywhere at shows and campsites. This is the luxury way to camp, in that you have as much heat as you can handle – perfect for our increasingly dire UK summer climate – loads of room, a perfect living area under cover for all your camping companions and a cosy place to sleep and efficient drying area for the inevitable wet outdoor gear.
The Tentipi comes in four sizes 5/7/9/15, although Chris reckons that you need 7/9 for a family of four/five, and in three models Adventure, Classic and Event with prices ranging from £580-£14,154. The beauty of this accommodation is the heating element. You can have a blazing log fire on the go or a wood burner (model 5 in nylon is the basic version with no provision for a stove). The Tentipi has a double vented cap to allow heat and smoke to escape and model 7 upwards are made from a cotton mix that is totally UV resistant, waterproof and breathable so no condensation when all becomes warm and cosy. Putting in a floor, wood burning stove and drying rail means you have everything you need for comfortable, warm, dry camping – essential these days…
"It's a design that's been around for 1000s of years," says Chris, "but with a modern twist and you can add porches to increase size. The only downside is that it's so comfy that you can't always get rid of everybody when you want to go to bed!"
---

Read more about this in-depth special in the August 2013 issue of 4×4 Magazine.