It's become a mini-classic in its own lifetime, with cute styling that suits it just as well for the city as for hardcore mud-plugging. A true off-roader with separate chassis and low range gearing and a reputation for reliability that ensures continued popularity
TARGET PRICE: £500 – £13,000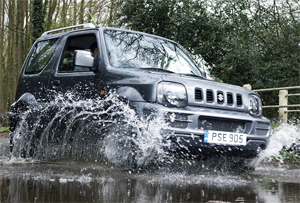 Oh, sure, we laughed at the Jimny when it appeared in 1998, far too small to be a useful SUV, too puny and low-slung to be a competent off-roader, surely it was nothing more than a nippy, traffic-dodging, easy-park city car, a little kinky in the styling department but hardly more desirable than a Mini…
Yet the Jimny has endured, and although its diminutive dimensions still can't make it a sensible family SUV, it's proven to be a great fun car for enthusiasts who wish to be part of the SUV lifestyle without having the need for a full-sized family off-roader. Meanwhile the Jimny's off-road ability continues to astound as more and more older examples find their way into weekend pay 'n' play off-road sites where they can be seen mixing it on equal terms with Jeeps and Land Rovers.
It is an oddball little car, boasting a rugged separate chassis and rigid axles at a time when even the most serious of off-roading SUVs were switching to monocoque bodyshells and independent suspension, in consequence of which, the Jimny is relatively heavy for its size and the ride quality isn't as good as it could be. Performance is hardly exciting, especially with the original 1298cc engine, which although seemingly right up-to-date at the time with its 16-valve head is a single-cam type that needs to be revved close to its 6000rpm power peak to deliver anything like meaningful acceleration, and works hard with much use of the five-speed manual transmission to keep the Jimny in touch with general traffic. Countering this is the fact that it was never intended to be a long-haul highway cruiser, and the uprated variable valve timing unit installed after 2005 sounds a little less frenetic and returns better fuel consumption.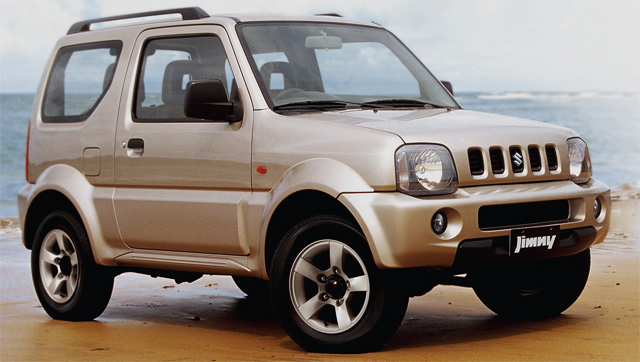 From the start we were concerned that the Jimny, in spite of its all-terrain pretensions, would not prove capable enough to excite as an off-roader. For one thing peak torque in that original engine comes in at a rather high-revving 4500rpm, which we suspected would make it difficult to drive carefully in slippery muddy terrain. We were also worried by the relative lack of ground clearance and the fact that the mountings for the axle control arms hang so low that they'd almost certainly snag on exposed rocks and roots. However subsequent experience with the Jimny left us more and more impressed with its off-road ability, helped by the excellent approach and departure angles.
---

To read the full report see the January 2014 issue of 4×4 Magazine. Buy it here