The Range Rover threw off its agricultural heritage in 2002 and reappeared as a thoroughly modern, exceptionally refined and superbly luxurious world-beater. With the all-new model now on sale, older examples are becoming more affordable
Price range £10,000 – £15,000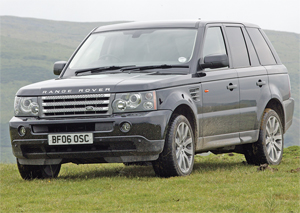 When the all-new Range Rover of 2002 appeared it was a stunning departure from the original concept. Gone was the separate steel chassis, gone were the beam axles, and gone was the trusty old Buick V8 engine. With its all-independent suspension and sleek new styling it was the starkest indication yet that the Range Rover was no longer the estate manager's town car, it was intended to be one of the world's best luxury limousines with four-wheel drive, almost an incidental fop to the growing interest in all-wheel drive SUVs. The transformation was fuelled by financial and technical input from BMW and Ford, which had sequentially owned the Land Rover brand at that time; hence there was also a quantum leap in the build quality and the promise of better performance, economy and reliability from new engines and transmissions.
The original engines were sourced from BMW in the form of the 4.4-litre V8 and 3.0-litre turbodiesel as used in the BMW X5. The new Range Rover was longer and taller than the previous model, but not much heavier because aluminium played a major role with the bonnet, front wings and side door assemblies all fabricated from the lightweight alloy, a first for a volume vehicle in this class.
The all-alloy BMW V8 delivered significantly more power than the outgoing Buick V8, the 282 horsepower delivering sprightly 9.2-second 0-60mph acceleration and a 130mph top speed; the turbodiesel was the economical option, promising up to 25mpg. Whichever of these engines you choose, the transmission is the same five-speed automatic, with Steptronic manual override. The Range Rover retained dual range versatility, but with a Torsen type centre differential backed up by traction control and Land Rover-developed Hill Descent Control helping to ensure off-road control.
Suspension is by air springs all round, one benefit of this being the adjustable ride height, which can be used to give the car extra inches of ground clearance when off-road, allowing it to easily outclass the original. The adjustable ride height also works the other way, lowering the car when driving at speed to improve aerodynamics and stability.
---

To read the full report see the February 2014 issue of 4×4 Magazine. Buy it here