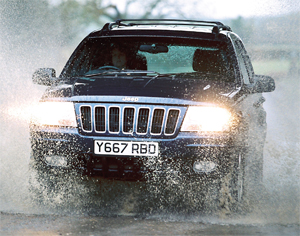 American character and excellent luxury specification in a practical and stylish SUV with good road manners and excellent off-road agility make for what has to be one of the best second-hand buys on the market today
Price range: £1000 – £7000
The second-generation Jeep Grand Cherokee was a significant improvement over its predecessor. The styling was similar but smoother and more aerodynamic; the leather-upholstered interior was just as opulently equipped but mechanical refinement and road behaviour were markedly better, a consequence of much attention to suspension bushings and settings. The most notable improvement, however, was the introduction of an all-new, powerful and efficient engine that at a stroke made the big Jeep a more effective rival to the all-conquering Range Rover. The engine was the 4.7-litre V8, matching the power of the Range Rover's 4.6-litre V8 but delivering quicker acceleration and higher top speed, not to mention better fuel consumption, because of being some 250kg lighter than its British rival. It was also significantly cheaper – at under £35,000 the 4.7-litre Grand Cherokee seriously undercut even the cheapest Range Rover, the 2.5 DT at nearly £40,000, let alone the £51,000 4.6HSE.
The Grand Cherokee was an interesting move away from the traditional construction of a Jeep, using a monocoque bodyshell and doing away with the separate supportive chassis. The engineers argued that the result was as strong, since they were able to build extra rigidity into the bodyshell, resulting in better refinement and significantly lighter overall weight. Yet they shied away from adopting independent suspension, the four-speed automatic transmission driving the wheels through traditional beam axles, albeit hung on comfort-enhancing coil springs.
---

Read more about this in-depth special in the July 2013 issue of 4×4 Magazine.