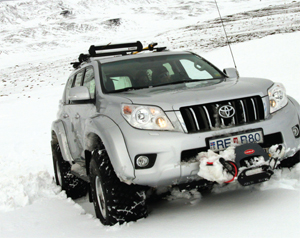 Iceland's interior is off-road adventure not to be missed, and if you can experience its magnificent and mind-blowing scenery under the expert guiding and driving of our good friends at Arctic Trucks you are in for the treat of a lifetime
Words and Photography: Hils Everitt
It wasn't quite what our guide Gisli expected. "We knew there was some snow but not quite this much," he laughed as he started to rock the Toyota Land Cruiser 150 Series 60th Anniversary model, attempting to get over the huge wall of snow.
Gisli Jonsson of Arctic Trucks, based in Reykjavik, had bulldozed through the deep snow and slush earlier in the deserted region of Iceland's Blaskogaheioi valley with little resistance. But as the snow became more compacted, even the mighty Arctic Trucks modded Toyota with its 38in AT405 Radial studded tyres couldn't just rumble through the seemingly impenetrable wall.
A few run-ups were needed, plus some gentle (increasing to rhythmic) rocking, to get us through and we were back on our way again. It was a grey and wet day, but horrible weather in Iceland doesn't make too much difference. It is an island of such sheer beauty and diverse landscapes that even when the skies are grey and overcast, and it's intermittently drizzling with rain, the sheer scale and majesty of its features more than make up for the lack of blue sky and sunshine.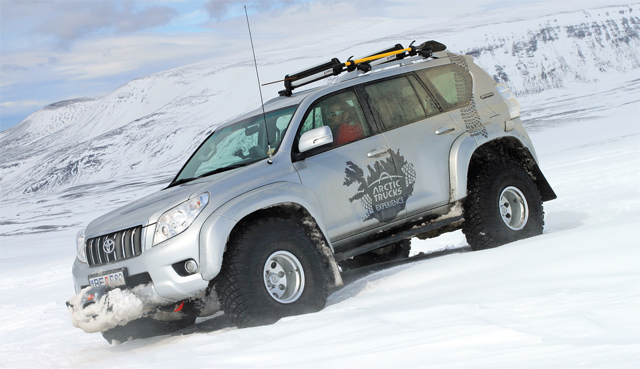 This was my second tour with Arctic Trucks into the interior of Iceland. Four years ago I was treated to a three-day drive towards the Myrdalsjökull glacier in the south, in the vicinity of the infamous Eyfjallajökull, the offending volcano that spectacularly erupted in April 2010 and put paid to any air flight over Europe for a week. That time we were in two trucks: the Top Gear North Pole Hilux and a Land Cruiser. We encountered the most incredible landscapes, from lava fields to lush, pastel-coloured grassland, geysers aplenty, stunning mountains in every available hue and vast, wind-blown glaciers, taking in every conceivable physical feature you might encounter in an A-Level Geography lesson.
This latest trip was very different. For a start we only had a day to explore and, rather than venture south east from Rekyjavik, we took the highway north east towards the Langjökull Icecap with the intention of experiencing parts of the famous tourist route, the 'Golden Circle'. This tour didn't take us through the varying landscape of that first trip but, instead, treated us to a drive through snow-laden valleys lined by soaring rocky hills and mountains, some completely covered in snow, others streaked and dotted with it, a pattern rather reminiscent of the kind of chunky sweater favoured by Scandinavian TV detectives.
---

Read more about this in-depth special in the August 2013 issue of 4×4 Magazine.