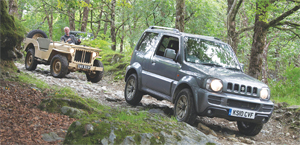 Just how far have things moved on? We take two similar-sized 4x4s, a 1943 Ford Jeep and 10-reg Suzuki Jimny, separated by 67 years of motoring evolution and pit them against each other on the glorious greenlanes of Snowdonia
Words: Toby Savage; photos: Wayne Mitchelson, Toby Savage
Our choice of vehicles for a true comparison of ancient and modern 4×4 was easy. Representing the formative years was my 1943 Ford Jeep, Grandfather of the whole leisure 4×4 market and designed purely to help achieve victory in the Second World War. The Jeep has always enjoyed a great reputation for off-road ability and this particular one is in excellent condition and shod with a new set of Michelin XZYs.
In the 'new' corner is the one vehicle that has retained many of the Jeep's core values over the decades. Suzuki has been producing very capable, Jeep-style, 4x4s since the introduction of the LJ back in 1967 and the latest incarnation, the Jimny, is no exception, with a short wheelbase and good approach and departure angles. Our long termer is shod withon road-biased tyres, so it would be interesting to see how the Jimny coped with this handicap.
Editor Hils and I met up with photographer, Wayne, in Betws y Coed and over a cup of coffee discussed the pros and cons of our respective journeys to Wales. Hils had travelled the furthest from way down in Kent, but the 1.3-llire Suzuki engine had sped her along at motorway speeds with a bit in reserve and her fuel economy was very reasonable.
Comfort levels were pretty good and she enjoyed the benefits of in-car entertainment for the duration of the trip. My trip over from Leicester was always going to be more of an adventure from the moment I fired up the Jeep's 2.5-litre side valve engine. No roof and a 55mph cruising speed steered me in the direction of the A5, rather than the Motorway and I raised many a smile from fellow motorists, especially during a brief shower!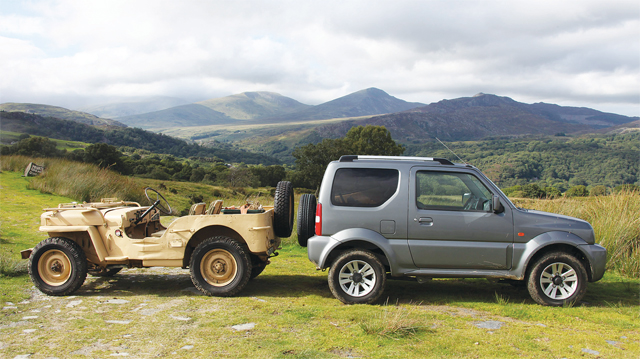 Wayne was in charge of route selection, making the most of his extensive knowledge of the area and which lanes are open to 4x4s. In case of any problems with either of our vehicles, Wayne brought along his own very capable Land Rover Td5 90. Once off the main road and onto a selection of winding Welsh lanes, the Autumn colours adding their own background to our story, both vehicles buzzed along nicely, the Jeep looking in its element within scenery unchanged since the 1940s and the Jimny adopting a rather cheeky appearance, like a puppy out with an old dog!
Read more about this 4×4 adventure in the March 2011 issue of 4×4 Magazine.