Whether you've signed up to an organised 4×4 expedition tour or are going it alone, preparation is key. We join an expedition training course to see what's involved…
Words and photography: Sarah Harrington-James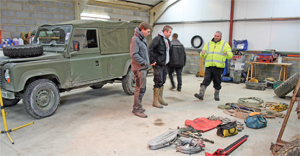 Imagine this scenario: before officially tying the knot, the appeal of one last epic adventure with your best mate is soon concocted over several pints of the best British ale. Africa is earmarked, with Kenya the end game and several weeks on a plan is in motion, now that you're the winning bidder of a 1995 Land Rover Defender 110. However, the adventurous pair in question, groom-to-be electrician Lewis Ashley and farming machinery specialist Kris Romney, are expedition newbies and under no illusion that they need to learn the necessary skills for their planned adventure. Sensibly, they sign up to an intensive three-day True Grip Off Road expedition preparation course – and I tag along too for good measure.
Disappearing off to a foreign, Third World country can be hugely daunting, which is why the prep work has to start at home. Kent-based True Grip, the origins of which started in 1993, can develop a course specifically for each individual, which takes into account previous off-roading experience, the vehicle they'll be taking, the type of terrain on their journey and driver's skill. Using True Grip's Defender 110 on private land encompassing Eastwell Park, Lewis and Kris opt for off-road driving, winch recovery techniques, survival skills, vehicle preparation and 'get you back home' mechanics.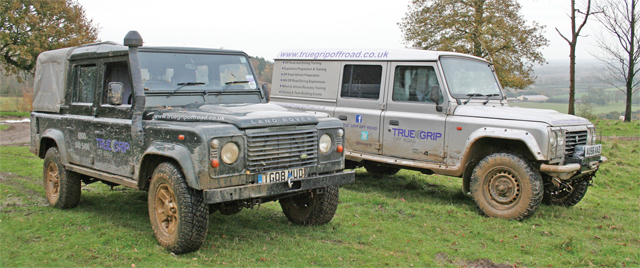 Chiefs and Indians
Our first stop: winch training. Early on a cold and miserable Monday morning, our injection of enthusiasm comes from former Land Rover Experience instructor Stan Metcalf, who gets us into the right frame of mind. "A lot of it is common sense, but you need to take your time – get out and work out a plan of action before you recover the vehicle," he says wisely, as he briefs us on the day ahead. "Always think about 'what happens if?' and the worst possible scenario; if the tow rope breaks it will swing round in an arch, so make sure you're standing out of the danger zone." We are told that on any expedition you should take a variety of different length towropes and strops, plus various sized shackles and snatch blocks to cover the majority of situations. Equipping the vehicle with a winch is a sensible option, while taking into consideration battery drain when in use.
---

To read the full report see the February 2014 issue of 4×4 Magazine. Buy it here