Tackling the question of which is the best pick-up available in the UK today is difficult. The choice is wide ranging, in terms of price, character and ability, but only one can win our 4×4 Pick-up Of The Year 2014, but even the runners up often impress
Words: Nigel Fryatt Photography: Wayne Mitchelson Second opinion: Howard Sherren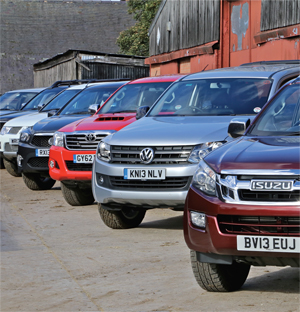 After our annual 4×4 Of The Year test in the last issue, we turn our attention to the pick-up market. With models from China, Korea, Japan (and Japan via the USA) this is a small, but highly competitive selection of 4x4s, and it's a market enjoying some growth. From the adjoining table, you can see that since 2009, UK pick-up registrations have risen significantly, and this year looks like being particularly strong. Now all these pick-ups have important characteristics in common; all diesel powered, all double cab, and all but one with selectable 4WD. They do, however, have very different characteristics and achieve the common aim of carrying four passengers, significant payload, and being able to tow, in very different ways. Prices too, vary widely. We have reported the manufacturer's claimed basic prices, which all exclude VAT (since in most cases, this is reclaimable), and that means the most expensive model here, the VW Amarok, is close to twice the cost of the cheapest, the Great Wall Steed. For vehicles that are so matched in their main raison d'etre, this is a significant difference. Is it worth that extra expense?
Of course, we also have to deal with the elephant in the room. On this test we have seven of the pick-ups available to the UK market; astute readers will notice that there is one missing. We have no Ford Ranger, our winner from the same event last year, but significantly absent for 2014. The reason for this is simple. If you place an order for a new Ford Ranger today, evidence is that it could take over a year for that order to be fulfilled. In our opinion therefore, it's effectively not available to the UK market, and certainly not available for our 4×4 Pick-up Of The Year 2014 test. What we have therefore, is the current available UK pick-up market, ready and waiting to be tested.
We looked at each vehicle with our standard testing criteria; off-road ability, on-road competence, value for money and how well they were fit for purpose. Since these are working vehicles, the towing capacity and the low down grunt of the vehicle engine's torque characteristic also weigh heavily on the final scores. We have also included a second opinion this year, with tractor magazine journalist and most importantly, working farmer Howard Sherren looking at the group to decide which would be the ideal choice, down on the farm.
---

To read the full report see the January 2014 issue of 4×4 Magazine. Buy it here