Bob Cooke – contributor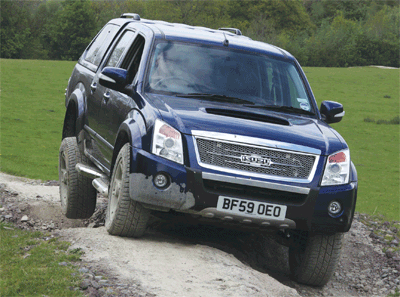 I remember being thoroughly impressed with the Isuzu Rodeo when it first appeared in 2003 as a replacement for the truly trucklike Vauxhall Brava. Not that I approved of the styling, particularly, too school-run sleek for my liking compared with my favourite at the time, the Nissan Navara, which has a much more off-roady appeal. But I did like the gutsy 3.0-litre turbodiesel, which gave the Rodeo lustier acceleration and much easier cruising than its 2.5-litre opponents.
Hence I was pleased to have the opportunity to drive the long-term Denver Max LE. My, what a lot of pretty chrome trim, pretty blue-illuminated dials, complete with sporty red needles, and what a lot of gadgetry to play with! Personally, I could do without the silly gleaming sidesteps, all they really end up doing after a spell of off-roading is to smear mud all over your trouser legs as you get out; I'd be too afraid of scraping the plating off against a rock. I'd rather have a chunky length of angle iron there to protect the sills. Still, the rest of the chrome I can live with. What did leave me cold, however, was the sat nav system. I don't really have a problem with systems that don't allow you to select a destination on the move, but this one seems only to allow you to do so after first initialisation, which takes agonising minutes. If you drive off while it's initialising thinking to pull into a layby later to set your destination, forget it – you'll have to switch off again and wait for the entire deadly boring initialisation process to happen again. And then…the system doesn't seem to recognise postcodes, so you have to go through the whole process of selecting city, street etc which is of no use at all if you're going to anywhere that hasn't got a suitable street number.