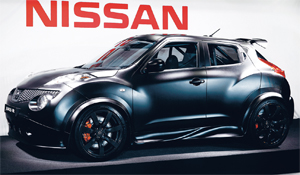 This month's issue (December 2011) has our group test of the best SUVs, or 'crossover' 4x4s on the market. Now while we fervently disapprove of the term 'crossover', you also have to ask whether Sports Utility Vehicle suits some of the models tested in this issue (see page 60). There's little that is Utilitarian about them. Whatever the nomenclature, there's a great model range on offer, to suit all tastes, from the impressive but somewhat sombre VW Tiguan, to the outrageously quirky Nissan Juke. Some love the weird, almost organic, bumps and bulges of Nissan's tiny 4×4, others are, well… less complimentary. However, most will join us in complimenting Nissan for the latest development of the Juke: enter the Juke-R.
Adding the 'R' designation indicates Nissan's sporting models. In the old days of this writer's youth, people put GT on the end of the car's name! In Nissan's case, the 'R' has seemed, in the past, to be little more than a clever way of charging a lot more for a model with a bit more power and a bit of fancy trimming and go-faster stripes. Not so the Juke-R, this is a seriously crazy road 4×4, and will certainly create a stir.
The new Juke-R has had a sneak 'reveal' in Spain this month, and you can follow the story on the web (go to: www.youtube.com/user/nissanjuke). The model is being built by British motor racing and performance car specialist RML – a well-established and highly regarded set-up – great to see a massive multi-national company like Nissan recognises real engineering talent. RML has stripped a standard Juke and, wait for it, a Nissan GT-R supercar. The intention is to shoe-horn the GT-R's V6 engine into the space that usually carries the modest 1.6-litre unit. The Juke has been stripped to a bare shell and a custom roll cage fitted to give the vehicle the strength it will need to go with all the extra power, since the GT-R's engine delivers a phenomenal 480bhp! The cage and strengthening also allows RML engineers to fit the GT-R's suspension and brakes. Unsurprisingly, the major problem is what to do with all the heat that the V6 engine creates in such a small area. If anyone can solve that, RML certainly will.
So whatever you want to call it, we applaud Nissan for making something that the politically correct doomsayers will say has no place in today's recession crippled days. We say 'good on you, Nissan' and look forward to learning more. Testing of the first car will have begun as you read this, so check out You Tube for some action footage. As yet there are no details of how many of these Juke-Rs will be built. Selling them will not be a problem, that's for sure.