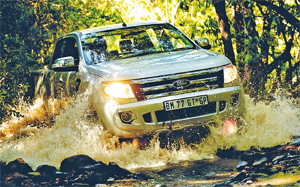 Finally, Ford's new Ranger pick-up is to go on sale in the UK, and it arrives with one simple objective; to be "best-in-class in every area important to customers". Given the fact that the UK pick-up market is highly competitive, the battle – especially with VW's Amarok and Toyota's forthcoming new Hilux – is going to be hard fought, but there's no denying that from the advance details we have seen and the photographs you can see here, the Ranger certainly looks like it has what it takes.
Prices look competitive, with the cheapest 4×4 model starting at £16,515, up to the top of the range on sale at £25,040 (plus VAT, but in many cases owners are able to reclaim the tax). As you would expect, there's a very comprehensive model range between those two prices. There are three body styles; Double, Super and Regular, with trim levels of XL, XLT, Limited and the top of the range Wildtrak. There will be a two-wheel drive model, which is surely completely pointless for a working truck, so we'll park that and ignore it.
This is certainly a global product, and it has taken its time getting to the UK, but when you learn of the production process, you can perhaps understand. The Ranger was initially designed and developed by Ford Australia, first volume production actually started in Thailand, then Ford's facilities in South Africa received a 're-vamp' and that's where all Ranger models for Europe will be shipped from: 'Made in Dagenham' is no more. Add to this the fact that prototypes were tested in 15 countries around the world, and Ford's 'global' claim for the Ranger seems fair. And it is a new pick-up, not just a new look on an old model. "Ranger is truly all-new," says Jim Baumbick, engineering director, Product Development, Ford Asia Pacific and Africa. "Developing this pick-up from scratch was an exciting opportunity that allowed us to benchmark what our competitors are doing, listen to what truck customers around the world want and deliver a vehicle that meets and exceeds expectations."
The exterior design is certainly impressive, complete with raked front screen and a 'sculptured' shape that while not as radical as Mitsubishi's L200 Warrior, will certainly stand out from a lot of competitors. The beltline has been raised over the previous model, which increases the capacity of the rear load box, now claimed to be the biggest in its class for the Regular Cab and Single Cab, at 1.82cu m and 1.45cu m respectively. The Double Cab is 1.21cu m. Overall the new Ranger is actually bigger than the original, being 5359mm long and 1850mm wide.
A lot of effort has gone into the interior, with a lot more storage space in the cabin (23 different spaces apparently) and a glove box large enough to accommodate a 16inch lap top computer. Selected models have Bluetooth, USB and iPod connectivity, dual-zone climate control and a five-inch colour screen for inbuilt satnav. Looks good from the pictures shown here.
The Ranger is available with two engine options. Top of the list is the new 197bhp 3.2-litre five cylinder Duratorq TDCi diesel engine with an impressive 347lb ft of torque – 90% of which is said to be available from 1700-3500rpm, which promises excellent engine flexibility. The 2.2-litre four cylinder diesel engine offers 148bhp and 277lb ft. Both engines are available with six-speed manual or automatic transmissions.
One of the most interesting aspects of the new Ranger are the electronics that have been built into the pick-up, as opposed to just 'bolted on' from the Ford parts shelf. Off-road ability will be improved with an all-new front differential, upgraded rear axle and lower overall gear ratios. The transfer box is electronic, allowing a driver to 'shift on the fly' and switch from 4×2 to 4×4. Top of the range models have Ford's Traction Control System, which we look forward to testing in the very near future, along with the Electronic Stability Program (ESP), Hill Descent Control, Hill Launch Assist, Trailer Sway Control, Adaptive Load Control (optimises the vehicle's stability regardless of load), Emergency Brake Assist (additional brake pressure in emergency stopping manoeuvres) and Emergency Brake Light (the hazard warning lights flash when the Ranger decelerates quickly).
Towing and wading abilities keep the Ranger up with the opposition. Top of the range models will tow 3350kg and wade up to 800mm, with a payload capacity of 1340kg. This new Ranger might look pretty, but it's obvious this vehicle has indeed been built to work for its living. And, as we closed for press, was awarded the maximum 5 Star Euro NCAP crash test result.
While it appears to have taken a long time coming – it was displayed at the Commercial Vehicle Show at the NEC back in May – now we have seen the full details, it's obvious that it will certainly be a serious competitor in this competitive class. We will have a full test in a forthcoming issue.