Hils Everitt – Editor at Large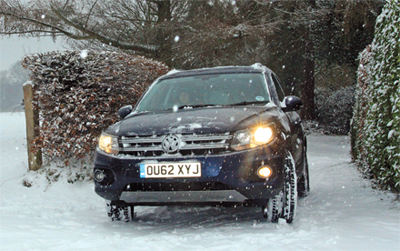 Well, I got my wish from a previous month and it did, as we all know, well and truly snow in late January – plenty of it, enough to bring the whole country to a halt. Well, all those without the sense to own a 4×4, that is. And I got the chance to see what our Escape version Tiguan was really like in the snow. You'll see from my Fiat Panda 4×4 report on page 28 that this winter marked the very first time I have actually been in an 'SUV' rather than a 'proper' 4×4 with low ratio etc etc onto the slippery white stuff. The Panda was shod with winter tyres, which made a heap of difference to its performance in difficult conditions. Our 4MOTION Tiguan, on the other hand, is shod in a very un-winter/snow/ice tyre, although it is the Escape version, with an off-road electronic switch that gives you Hill Descent Control, among other things.
The Bridgestone Dueller H/P Sport is a Highway Performance tyre designed for sporty SUVs – which the Tiguan is, on the road; very sporty indeed. But on the deep snow here in Kent? Well that's another matter. I have written about driving my permanent 4WD Jeep Grand Cherokee in snow. With its General Grabber ATs with M+S rating, it feels bombproof in bad conditions. I feel I can go anywhere. The Tiguan is a somewhat different story. So, with a lack of really decent winter grip beneath, I gingerly headed out in manual second.
VW TIGUAN BL ESCAPE 2.0-LITRE TDI BLUEMOTION 4MOTIONUEMOTION ES 2.0TDI 4MOTION
Mileage: 2480
Costs: None
Arrived: December 2012

You can read more about this VW in the April 2013 issue of 4×4 Magazine – available here