Hils Everitt – Editor at Large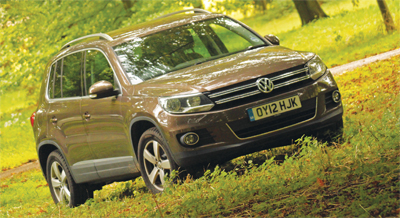 After a few months of touring around the country in our Tiguan SE it's time to say goodbye as we are replacing it with the Tiguan 'Escape' model just in time for the winter months.
Although they have the same name, these two have very different specs and feature different equipment. Our SE comes at an on-the-road price of a pretty hefty £25,675 which includes £135 VED (band F). For that little lot you get the very impressive and elegant 1968cc TDI that pumps 138bhp, which may not sound a huge amount, but it does pack a powerful punch when up and running on the motorway and is incredibly smooth and responsive. When mated to the solid 4MOTION permanent four-wheel drive system and six-speed manual gearbox, it formed a stable combination that gave me a lot of fun getting the most out of it. There is a 168bhp engine option but, unless you really want some extra poke, the 138bhp model is perfectly adequate. Torque is quoted at an impressive 236lb ft@1750-2500rpm which helps to make it a useful towing vehicle that can haul 2200kgs.
The price tag of our vehicle delivered a host of electronic acronyms such as ABS, EBD, ESP, EDL (Electronic Diff Lock) and ASR (yet another way of indicating Traction Control). Also on the list – as optional extras – were the very welcome DAB radio (standard), so that I could stay tuned to my beloved BBC 6 Music, with satnav (add £540) and cruise control (£235). Inside, the Tiguan doesn't have the most splendid or impressive of interiors, but it does give you a host of features and, over the thousand-odd miles we enjoyed together, I found it a very comfortable experience with plenty of adjustment to suit even my fussy, petite frame. It has to be said, however, that, for the price, a bit of electric seat adjustment would have been more pleasant.
BlueMotion ES 2.0TDI 4MOTION
Mileage: 2,545
Costs: Loads of diesel
Arrived: May 2012

You can read more about this VW in the January 2013 issue of 4×4 Magazine – available here