Hils Everitt – Editor at Large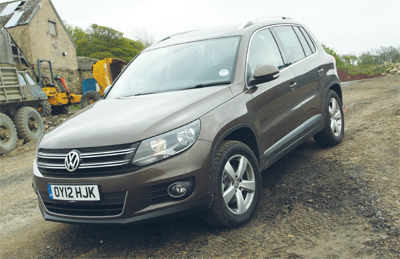 The latest revamp to VW's Tiguan has created a more stylish and luxury feel to the baby brother to the mighty Touareg. And it certainly feels it when you're cosily cosseted in the supportive and satisfying leather driver's seat propelled by the effortless 2.0-litre 138bhp engine.
There are two engine options, and we have the lower powered of the two, but, quite frankly, I am more than happy with our lot. This 138bhp version is a schmooze of a cruise even from the lowly depths of third gear when it really starts to enjoy itself. As I mentioned in my intro report on our new long-termer last month, I clocked up 800 miles in a week and have to say that I have rarely enjoyed such a comfortable, sporty and relaxing experience in any other compact SUV.
First of all, I have to mention the luxury, solid feel to the leather-bound steering wheel. Having driven from Kent to Yorkshire and on to Worcestershire then back to Kent again, I spent a lot of time attached to that wheel and found it one of the most comfortable, and that includes the Range Rover and Discovery 4.
BlueMotion ES 2.0TDI 4MOTION
Mileage: 1186
Costs: None
Arrived: May 2012

You can read more about this VW in the August 2012 issue of 4×4 Magazine – available here