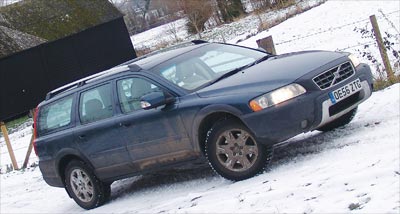 Phil Weeden – editorial director
Yes, it's another winter rescue story! Over Christmas we were staying at my mother-in-law's place. Perched in a valley, just off the A427, it's pretty isolated at the best of times, down a long unmade track. With all the snow immediately prior to Christmas, the track was seriously covered; this snow, in turn, was flattened and then refroze, leaving a marble-smooth surface so slippery it could become a politician.
So quite why we decided to head over there in a Mini I have no idea. On Christmas Day, we had some drama when my father-in-law attempted to leave in the dead of the night. The track is such that there's a naughty 90-degree right-hander after about 500 yards, which prevents you from building any momentum for the next 800 yards which is a progressively steeper incline. Sure enough, my father-in-law's Passat got stuck half up the slope. This is when the use of a 2006 Volvo XC70 came into play.
SPECS
Make: Volvo XC70
Model: 2.5D5 Lux Geartronic
Mileage: 48,392
MPG: 33.2
Recent costs: None
Arrived: Feb 2008
You can read more about this Volvo in the February 2011 issue of 4×4 Magazine – back issues available here