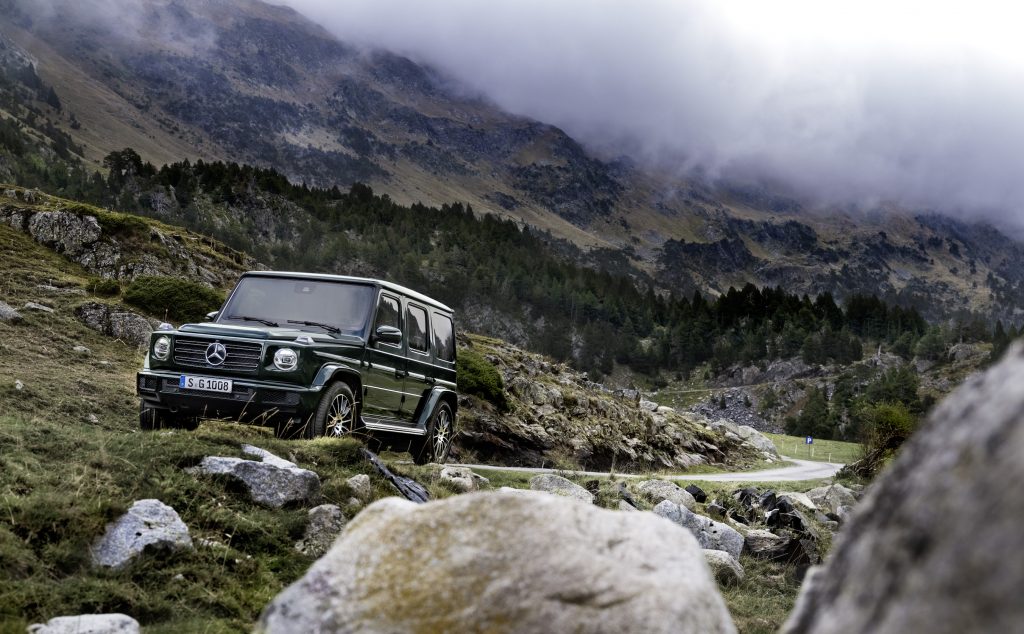 After months of strategic suspense building, Mercedes has finally revealed the brand new G-Class – and there's more changes here than initially meets the eye.
Yes, it pretty much looks the same. The LED headlamps have been updated, alongside a refreshed grille and at the back the taillights have been given the once over, too. But overall, it's retained the iconic veneer.
It's a similar story inside, too. The instruments have been redesigned, but keep that classic feel with round analogue dials. However, just as in most other Mercs being produced today, the displays in the drivers' view are digitised and a 12.3-inch display above the centre console is available.
Now, onto the good stuff. The G-Class has a newly-designed suspension, worked on by both the flagship and AMG, which prioritises off-road figures. The double-wishbone front axle is directly attached to the chassis – there's no subframe involved. And thanks to the setup at the back – a rigid axle managed by four trailing arms on each side and a panhard rod – the new G-Wagen has 10cm more ground clearance between axles than its predecessor.
This also means that it can ford deeper, and has better breakover, departure and approach angles, too. Combine these with the fact it retains the three fully lockable diffs, the obligatory low-range 'box and advanced four-wheel-drive system, and the German powerhouse will take some stopping when the tarmac ends.
The 4.0-litre bi-turbo V8, which beats out 422bhp and 450lb/ft, has been confirmed for the G500 model, however that hasn't yet been confirmed for the UK. Whether we get it or not, it will be managed by the five driving modes. The Comfort, Sport and Eco settings are self-explanatory, as is the customisable Individual mode.
Most interesting of the lot is the new G-Mode. No, it doesn't turn up the stereo and blast out 'Fiddy Cent'. It kicks in as soon as any of the diffs are locked, or the low 'box is selected, and it tailors the G-Class to the terrain. The off-road setting adjusts the damping of the chassis and steering, along with modifying the accelerator behaviour. It also aims to avoid untimely gear changes from the 9G-tronic auto 'box. So, Mercedes' answer to Terrain Response then.
There aren't any more details about which G-Class options will be available in the UK, but the entry price in Germany is set at €109,040.50, with first deliveries expected for the summer. So Brits interested in the new G can anticipate prices that start just shy of £100,000.