Nigel Fryatt – contributor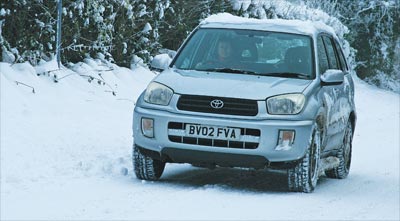 Thank goodness we were ready! As regular readers will know, our December issue had a detailed feature on winter driving, with specific advice on winter tyres. Little did we know that the snow was on its way to us so early this year, arriving by the freezer-full at the end of November. It was to provide a stern test for both our Toyota and its new winter tyres.
We had decided to 'go Continental' this year and chose a full set of ContiCrossContact winter tyres, expertly fitted for us at our local Kwik Fit centre in Caterham. After our experiences last February it seemed a sensible decision. The important point about winter tyres is that they have been designed to perform when temperatures drop below 7degC. As this is being written, the temperature in our garden is minus 9°C – and we live in a Surrey suburb not some remote Highland bothy. After the freezing conditions of these early winter weeks, the case for choosing winter tyres has been proven, surely?
SPECS
Make: Toyota RAV4
Model: NV VVTI
Mileage: 92,129
MPG: 35.5
Recent costs: Lots of de-icer!
Arrived: June 2010
You can read more about this Toyota in the February 2011 issue of 4×4 Magazine – back issues available here