Nigel Fryatt – contributor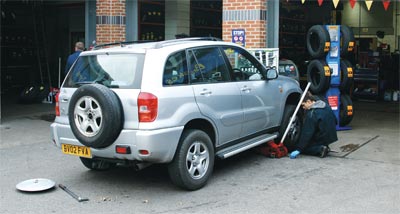 Bring it on, we're ready! That was the (slightly exaggerated) thought that crossed my mind driving away from Kwik Fit in Caterham with our new Continental ContiCrossContact winter tyres fitted. As you can read in the Winter Driving feature on p74, we have decided to test out 'winter tyres' on our RAV4 and so went along to our nearest Kwik Fit to get the job done.
The reason for deciding to fit winter tyres to your 4×4 is covered in detail in the feature, but you only have to compare the tread patterns on the tyres to see that there is a significant difference; the grooves are significantly wider and the sipes (the tread on the edges of the tyres) are more numerous. It all bodes well for a winter of getting the maximum benefit from owning a 4×4.
It could have gone all wrong before it started, however, when we couldn't find the locking wheel nut kit. To be honest, when we bought the Toyota recently, it completely slipped my mind to check that they were still with the vehicle! Thankfully, they were, allowing the guys at Kwik Fit to get on with the job of changing the tyres.
Now we have all seen the TV adverts about Kwik Fit fitters and I guess the guys that actually work there find them hugely embarrassing. They certainly didn't dance around our Toyota singing (thankfully) but they know how to handle the customers. When we arrived, the car park was full, there was a queue in the office and the assortment of customers who arrived with 'I have a problem and I want it fixed now' was significant. In addition to wheel and tyre issues, these 'urgent' problems ranged from flat batteries and engine management lights flickering on and off, to a rather eccentric old lady who needed a new tyre and she had to be in Redhill by 10.00hrs… It was 09:30hrs at the time and Redhill is a good 45 minutes away without changing the tyre! But it all worked, and all was sorted. Kwik Fit is running a special promotion on Continental winter tyres and we have no hesitation in recommending both. They will also store your 'normal' tyres during the winter months in their Tyre Hotel, to then refit next year when the weather improves if that helps. Four ContiCrossContact tyres, wheels balanced and fitted cost just over £450 and given our proposed mileage, we are expecting them to last for at least two winters, maybe three, and for the extra traction and grip they will offer, not to mention the peace-of-mind they will give, that seems reasonable. Time will tell, and you will be the first to hear as we report in these pages.
SPECS
Model: Toyota RAV4
Spec: NV VVTi
Mileage: 90,335
MPG: 28.9
Recent costs: New Continental winter tyres, £450
Arrived: June '10