Nigel Fryatt – editor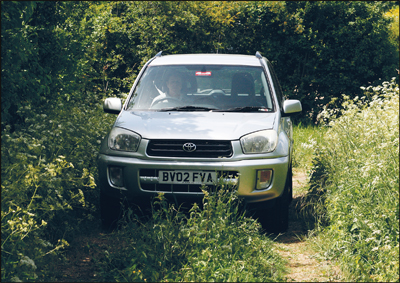 Greenlaning is well named! We took the Toyota down one of our local lanes the other day; just an undulating country lane, but boy had it changed. Spring had indeed sprung and the route was well overgrown. Good to see things growing like this but it does cause problems. OK, so it is a very easy route but when the weeds are now as high as the Toyota's bonnet you do get a little concerned as to what they are hiding – even though you know the route doesn't have any nasty surprises!
It led me to jump out on occasion and check that all was well. Plus some of the nice thorny bits that were overhanging the route had to be pushed out of the way for fear of it scratching the Rav's paintwork – which, for a vehicle of this age is actually pretty good.
The Toyota carried some seriously valuable cargo this month; Sue's Dad's fishing rods! I was given the important job of transporting them during a house move. Sue's Dad wasn't going to let the removal men stuff them into their van and risk breaking them, so yours truly got them to carry. Carefully sliding them into the Rav, I wondered about how to stop them rolling around and then came up with the great idea of threading them through the holes in the headrests! Often wondered what those holes are for? Now you know.
Toyota RAV4 5dr
Spec: NV VVTI
Mileage: 97,650
MPG: 26.7
Recent costs: none
Arrived: October 2008

You can read more about this Toyota in the July 2011 issue of 4×4 Magazine.