Nigel Fryatt – editor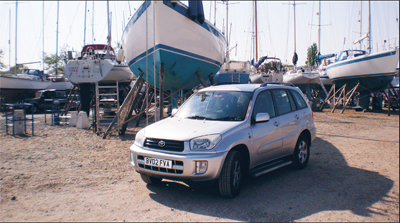 Looking back on some of the more recent reports on the Toyota reminds you just how bad, and for how long, the snow was with us this winter. Just looking at the pages actually makes you feel cold, which makes the fact that it's now spring as this is being written, all the more pleasing. The Rav4 performed brilliantly during the cold snap, but if I'm honest, it's far more preferable having to switch the air-conditioning on because it's too hot! Mind you, Sue and I argue about just how much fuel the air-con is burning up, and perhaps opening the windows would be cheaper. I then point out that opening the window greatly affects the aerodynamic flow around the vehicle, causing drag, and using more fuel. We tend to compromise, but we have certainly been grateful of the air-conditioning as this is being written just after that fabulous 'early summer' weather we experienced over Easter.
And fuel is certainly something you take more care with these days. isn't it. On a recent trip from a marina in Lymington down in the New Forest, back to our home in Warlingham, Surrey, we had a good run on dual carriageways and surprisingly uncongested motorways and when the tank was just under a quarter full, thought we had better fill up; £62 later you did gulp somewhat. Over the weekend we had been sailing in the Solent, although thanks to the lack of wind we had needed to motor our chartered yacht for two of the days. When returning the boat, you always fill up with fuel and we had all wondered what the cost was going to be, but amazingly it just reached £50 of diesel and we were full – and the yacht is a great deal bigger than our Rav4 and the difference in £/per litre isn't much these days.
Toyota RAV4 5dr
Spec: NV VVTI
Mileage: 97,020
MPG: 28-32mpg
Recent costs: Just expensive tanks of fuel
Arrived: October 2008

You can read more about this Toyota in the June 2011 issue of 4×4 Magazine.