Nigel Fryatt – contributor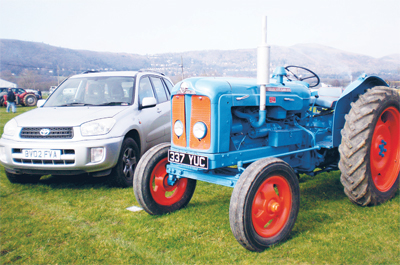 It's quite odd letting a man you've never met start hitting your 4×4 with a hammer. Okay, so it was more gentle taps than full-blooded thumps, but it was still rather worrying. Did he really know what he was doing? Should we have taken the Toyota to the bodyshop?
Regular readers will remember that a few weeks ago we had the Toyota's front bumper repaired at a cost of £370. The RAV was off the road for nearly three days; such was the palaver involved in removing the huge front bumper, prepping it, spraying and then re-fixing everything. Thankfully, the culprit had acknowledged the 'bump' and our costs were covered. The repair was excellently done, yet despite it not actually costing us anything, nearly £400 for a minor scuff seemed excessive.
You can imagine the language, therefore, when yet another errant parker, in the car park, sheepishly announced they too had 'just nicked' the front wing of the Toyota. So after a visit to the Tractor Show (pic above), off we went again to the bodyshop for an estimate; two days this time, at a cost of £367 (plus VAT).
It was then that we decided to have a little search around. Eventually, we were given the name of Chris Constable at ChipsAway and it was he who was wielding his hammer on the Toyota's shiny metallic paintwork. These guys do the repair on your driveway, but what happens if it's raining? Don't worry, they have a pagoda. Thankfully, it was a bright, if particularly cold, March morning when he arrived. Less than three hours later I was writing a cheque for £120 (plus VAT). That's a saving of over £200 on the bodyshop quote and the result is excellent, especially as the dent did cross over the natural crease on the front wing. Quick and efficient and you cannot see the 'join' in the paintwork. Chris mixes the paint 'on site', which in itself is impressive. ChipsAway (www.chipsway.co.uk) is a franchised network, so is only as good as the bloke wielding the hammer! If you are in the Surrey area we can thoroughly recommend Chris Constable (tel: 07500 858 417 or email: [email protected]) and tell him 4×4 Magazine sent you.
The Toyota is now on the lookout for some decent dual purpose tyres so we can put the excellent Continental CrossContact winter tyres away for (we hope) quite a few months. There are probably a lot of 4×4 owners thinking very similar thoughts and we will be reporting on what we select in a forthcoming issue.
Toyota RAV4 5dr
Spec: NV VVTI
Mileage: 94,987
MPG: 32.3
Recent costs: Chips Away bodywork repair (£144 inc VAT)
Arrived: October 2008

You can read more about this Toyota in the May 2011 issue of 4×4 Magazine.