Nigel Fryatt – contributor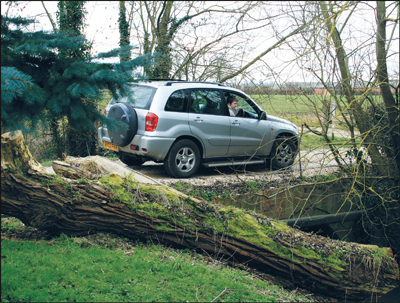 Our RAV4 is knocking closer to the 100,000-mile mark and 10,000 of those miles have been done in the eight months since we bought the vehicle. In that time, while we've been checking, it has needed very little oil, and it's not too thirsty, either; we have been averaging around the 35mpg mark.
Perhaps it would be better with new windscreen wipers, and we are very pleased with the Continental winter tyres fitted, but apart from that, costs have been very low, and it has been eight almost problem-free months. Still doesn't make you that confident when you take your 4×4 for the MoT and an annual service does it?
One small, but annoying, problem had been the inconsistency of the rear fog warning light. Turning left, in the rain, the light on the switch would come on 'automatically'. When you switched it on with the RAV stationary (to check) it often refused to illuminate. The fuse was OK, and checking the bulb found no problem. We have narrowed it down to the tow bar electrics, which now seem to need a regular liberal cleaning to ensure the light goes on when we want it to, not just when it's raining and we are turning left!
Toyota RAV4 5dr
Spec: NV VVTI
Mileage: 94,067
MPG: 29.1
Recent costs: MoT £54.85, full annual service £249, new wipers £24.48
Arrived: June 2010
You can read more about this Toyota in the April 2011 issue of 4×4 Magazine