Sue Loy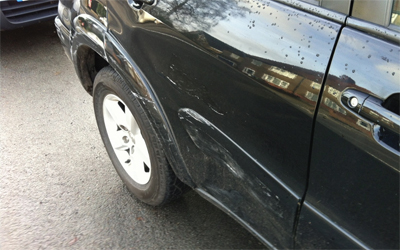 As the saying goes, 'accidents happen', and that's never more true than when driving. I have always been of the opinion, however, that even my beloved RAV4 is just a machine and if it was ever to be involved in an accident, I wouldn't get irate. People are more difficult to mend than cars, so if no-one gets hurt, then let's all stay calm and relaxed.
That was certainly the case just before Christmas when the RAV was the innocent party in a road traffic accident that didn't seem that much of a problem at the time. And since the other party immediately apologised and assumed responsibility, we drove home with only the problem of contacting our insurance company, confident that all would be sorted.
What a palaver! Now, the important thing to know here is that everyone we contacted was polite and certainly tried to be helpful. What seems ridiculous is just how many companies became involved, and how complicated the whole process became. After phoning 'our insurers' and giving all the details, we were told that they were just the brokers so we would need to phone the company that holds the insurance. OK, and we will have to explain again, exactly what happened. And, of course, we had to do it all again, in writing a little later. We duly did that and were asked if we would need a courtesy vehicle while the RAV was repaired. Now that seemed a good idea, but that meant we were then contacted by a third company, and we had to go through all the details again, oh and they sent various forms for us to fill in with the details. Again. What was also somewhat disconcerting was how many times we were asked if anyone was hurt and if we would be claiming compensation. Quite nice to be asked the first time, but after we had been asked two or three times, ostensibly when called to make sure the claim was progressing well, it all seemed as if they actually wanted us to say: "well, now you mention it my neck aches a bit and I'm probably going to have to be off work for at least a month….!" Compensation culture indeed.
SPEC
Make: Toyota RAV4 XT-R
Model: 2-litre
Mileage: 44,462
MPG: 34
Recent costs: Telephone calls to various insurance companies!
Arrived: June 2012

You can read more about this Toyota in the May 2013 issue of 4×4 Magazine – available here