Sue Loy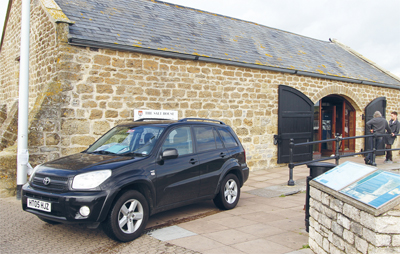 Good to do something for the environment this month – helped by the versatility of the Rav4. Our sister magazine, Coast, was having its annual Beach Clean, this year in Bridport in Dorset, and since I was involved with the organisation of the event, that meant the Rav4 was also drummed into service.
The beach clean is organised by Coast magazine, in association with the Marine Conservation Society, and involves readers coming down to seriously clean areas of natural beauty. As thanks for their hard work, we supply some great 'goodie bags' full of interesting stuff from the publishers and the event sponsor, Joules clothing. There were quite a lot of these bags and they couldn't just be piled on top of one another, so we needed a large flat surface to transport them.
That's where the Rav4's versatility came into play, as you can easily remove the vehicle's rear seats. Fold the seat backs down, remove the headrests, tip forward and you can un-clip the whole seat. It is a bit awkward to lift and get out through the side door; but to be honest, it is a simple and very quick process that turns a five-seat family SUV into a two-seat van with amazing carrying capacity.
SPEC
Make: Toyota RAV4 XT-R
Model: 2-litre
Mileage: 41,356
MPG: 34
Recent costs: n/a
Arrived: June 2012

You can read more about this Toyota in the December 2012 issue of 4×4 Magazine – available here